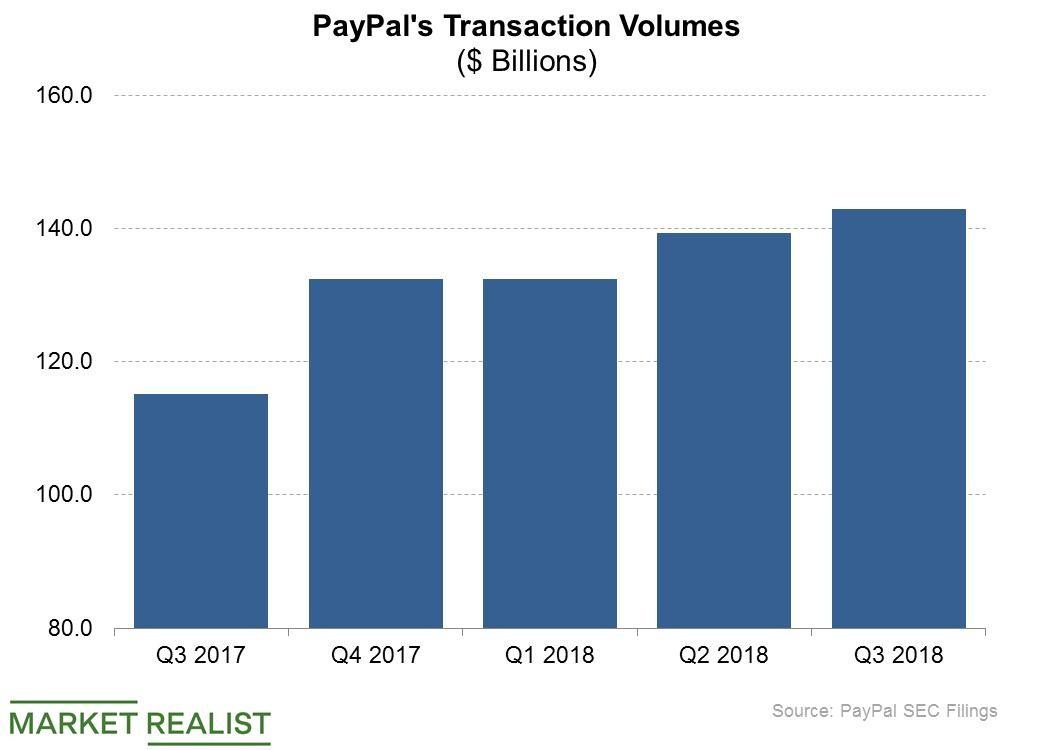 PayPal Reduced Its Reliance on eBay in Q3 2018
eBay accounts for 11% of PayPal's payment volume
PayPal's (PYPL) relationship with eBay (EBAY) has evolved from a parent to prominent customer to potential competitor in the coming years. eBay is in the process of replacing PayPal with Adyen as its payment processor.
In the third quarter, eBay accounted for 11.0% of PayPal's total payment volume, which was down from 13.0% in the third quarter of 2017. This trend indicates that PayPal is relying less on eBay for growth, which is a positive sign considering that its eBay business is ending.
Article continues below advertisement
PayPal's exposure to eBay diminishing
According to PayPal CFO John Rainey, PayPal's exposure to eBay has been falling about 3.0%–4.0% per year. That trend indicates that PayPal's exposure to eBay is naturally diminishing. As a result, PayPal doesn't expect an adverse impact when eBay finally shifts its payments away from its platform by 2023.
Despite its reduced reliance on its eBay business, PayPal's total payment volume jumped 25.0% year-over-year to $143.0 billion in the third quarter.
eBay grooming PayPal rival
eBay plans to complete the transition to processing payments for its customers internally by 2023 with the help of Adyen. eBay has a stake in Adyen, which could become a PayPal rival.
Aside from eBay, Adyen also handles payments for Facebook (FB), Netflix (NFLX), and Spotify (SPOT). Facebook runs the world's largest social network, which is used by more than 2.0 billion people globally and about 6.0 million advertisers.
Netflix operates the world's largest subscription video service, which has drawn more than 130.4 million paying customers. Spotify operates the largest on-demand music platform, which has attracted about 83.0 million paying listeners.