Would Intel Consider Outsourcing Its CPU Manufacturing to TSMC?
In 2018, AMD decided to divide the production of its 7nm products between TSMC and GlobalFoundries.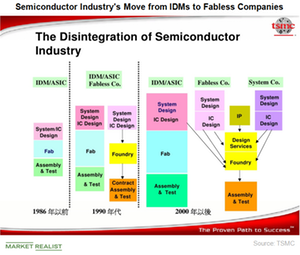 How would outsourcing harm Intel?
Intel's (INTC) CPU (central processing unit) shortages have ignited rumors that the company might consider outsourcing some of its CPU production to TSMC (TSM), its rival in the foundry business.
Intel already outsources its production of FPGAs (field-programmable gate arrays) and baseband modems, primarily due to TSMC's expertise in these chipsets. However, CPUs are Intel's legacy products, and no one has been able to beat it in CPU manufacturing technology. If Intel outsources its CPU production to TSMC's 14nm (nanometer) or 10nm process, it could imply that the former is lagging behind the latter in terms of manufacturing capability.
Article continues below advertisement
Article continues below advertisement
Even if Intel decides not to outsource CPU manufacturing, it might do so for the entry-level H310 chipsets. However, it might not outsource the manufacturing for its Coffee Lake CPUs due to design complexities and the risk of trade secrets being leaked. However, this rumor should be taken with a pinch of salt, as there has been no hint or communication from Intel in these areas.
Intel's fab strategy versus AMD's fables strategy
Intel has always focused on the in-house production of its CPUs, as its volume production has offered cost benefits. Intel has had the most advanced manufacturing technology, which discouraged it from outsourcing its manufacturing to less advanced nodes. However, this tailwind converted into a headwind as the complexity of the 10nm node delayed the technology by two years.
Unlike Intel, Advanced Micro Devices (AMD) spun off its foundry business. AMD became a fabless company that focuses on chip designs and outsources manufacturing to third-party foundries. AMD generally outsources production to GlobalFoundries, its spun-off foundry business. In 2018, AMD decided to divide the production of its 7nm products between TSMC and GlobalFoundries. This strategy is working well for AMD, as Intel has encountered delays.
Both strategies have their advantages and disadvantages. Intel might be expected to regain its technology advantage with the launch of its 10nm products in the 2019 holiday season.
Check out all the data we have added to our quote pages. Now you can get a valuation snapshot, earnings and revenue estimates, and historical data as well as dividend info. Take a look!