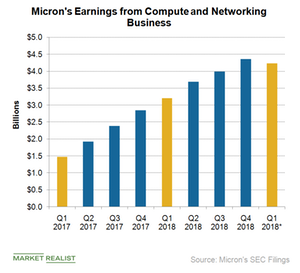 Intel's CPU Supply Shortage to Negatively Impact Supply Chain
CPUs: Supply and demand
Intel's (INTC) 14nm (nanometer) manufacturing capacity has been unable to meet the growing demand for CPUs (central processing units) from PC and server OEMs (original equipment manufacturers). This supply shortage has been worsening as we near the holiday season, forcing OEMs to reduce their shipment goals for the second half of the year.
While it's true that Intel's slow transition to the 10nm node has hindered the 14nm manufacturing capacity, this strong demand is another reason for the growing supply shortage. The PC market has been stabilizing as the growing popularity of PC gaming has encouraged consumers to upgrade. IDC (International Data Corporation) expects PC shipments to report their strongest second-quarter growth in more than six years, rising 2.7% year-over-year.
Intel's lower 14nm manufacturing capacity has created a supply shortage for some server CPUs. According to IDC, server shipments rose 20.5% year-over-year in the second quarter, indicating strong demand in the market.
On September 7, SemiAccurate referred to an internal Hewlett-Packard Enterprise (HPE) document dated August 7. In the document, HPE instructed its sales representatives to recommend alternatives to its customers such as the EPYC server CPUs from Advanced Micro Devices (AMD).
Article continues below advertisement
Impact on PC memory chip makers
On September 11, TrendForce noted that the CPU supply shortage would lower PC shipments in the second half of the year. This trend is expected to significantly reduce PC DRAM (dynamic random-access memory) prices in the fourth quarter, higher than the 2.0% decline estimated by DRAMeXchange.
In its fiscal fourth-quarter[1. fiscal Q4 2018 ended August 30] earnings call on September 20, Micron's (MU) chief executive officer, Sanjay Mehrotra, stated that a shortage of CPUs would impact its client compute customers. Because Micron is a major DRAM supplier to Intel, any CPU shortage at Intel could negatively impact Micron's earnings. Plus, the decline in DRAM prices could further impact Micron's earnings. Micron expects its revenues to fall 4.0% sequentially to $8.1 billion at the midpoint in the fiscal first quarter of 2019, which ends on November 30.
One company that could benefit from Intel's supply shortage is its primary rival, AMD. We'll look into this topic in the next article.
Check out all the data we have added to our quote pages. Now you can get a valuation snapshot, earnings and revenue estimates, and historical data as well as dividend info. Take a look!