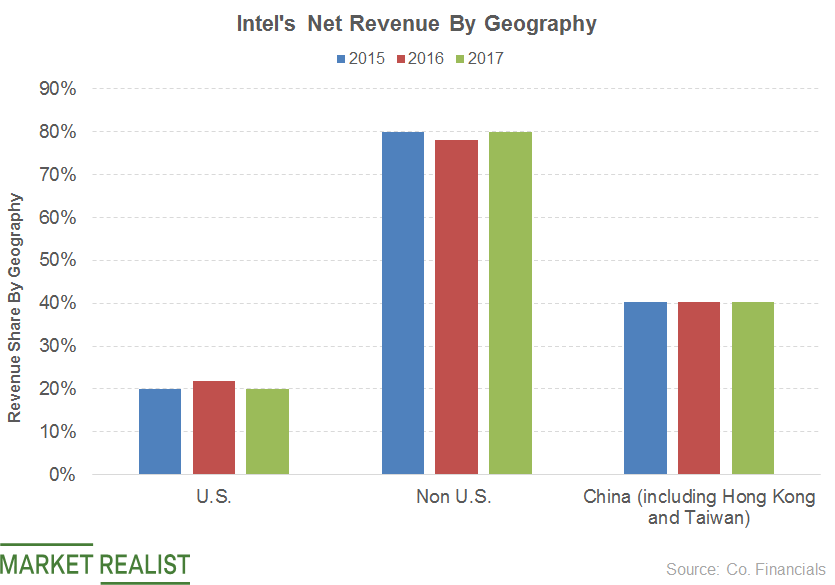 Understanding How Intel and China Depend on Each Other
How has Intel transformed itself?
Intel (INTC), the leading semiconductor manufacturer, is undergoing a transformation to become a leader in the data-centric, artificial intelligence, and autonomous revolution space. This transformation has been adequately reflected in the revenue growth of the company's reportable business segments.
Article continues below advertisement
Intel's involvements with China
Intel generated 80.0% of its net revenues from the non-US regions in fiscal 2017. China (including Hong Kong and Taiwan) contributed 40.0% to its net revenues. The company dedicates 20.0% of its revenues to R&D (research and development) and capital spending. Lower tax rates in China have encouraged Intel to revamp its Dalian manufacturing facility.
Lenovo Group Limited (LNVGY) was responsible for 13.0% of Intel's revenues in both fiscal 2016 and fiscal 2017. Lenovo, Dell (DVMT), and HP Inc. (HPQ) formed 38.0% and 40.0% of Intel's revenues in fiscal 2016 and fiscal 2017, respectively.
Significant developments between Intel and China in 2018
In January, Intel announced strategic partnerships with China-based automotive manufacturer SAIC Motor and digital mapping company NavInfo. The partnerships plan to develop autonomous vehicles and bring Road Experience Management (or REM) Mapping to China.
Intel announced $72.0 million in investments in 12 tech startups to drive its AI, cloud, IoT, and silicon technologies. Three of the 12 startups are in China—Reconova, an AI company; Alauda, a container-based cloud services provider; and Espressif Systems, a semiconductor company.
On May 10, former Intel CEO Brian Krzanich discussed China's AI plans sponsored by public-private funding assurances and industry-government alignment. China played a crucial role in the 5G New Radio Global Standard trial. Intel announced an alliance with Unigroup Spreadtrum & RDA on February 22 for the development of a 5G smartphone platform for the China market.
China's Baidu (BIDU) formed a partnership with Intel in July. The partnership was aimed at the deployment of Intel's Mobileye's Responsibility Sensitive Safety (or RSS) model for Baidu's commercial autonomous car development programs.