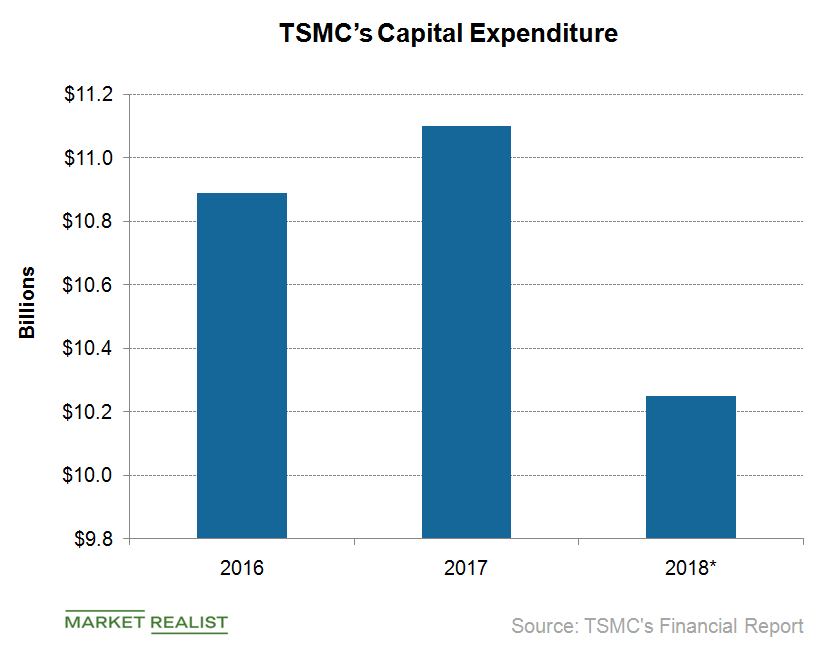 What TSMC's Reduced Capital Spending Means for Applied Materials
Correlation between TSMC and Applied Materials
Taiwan Semiconductor Manufacturing Company (TSM) is increasing its exposure to HPC (high-performance computing), and that requires advanced nodes. With every node shrink, the technology becomes more complex and requires more equipment, making it capital intensive. TSMC invests ~$11 billion annually on capex, including new equipment purchases, capacity expansion, and production ramp-ups.
Being the world's largest foundry, TSMC is a key customer of foundry equipment suppliers Applied Materials (AMAT) and ASML (ASML). These companies earn revenue when chip makers increase their capital spending.
Article continues below advertisement
TSMC lowers its 2018 capital spending
In the second quarter, TSMC reduced its 2018 capex budget by $1.5 billion to $10 billion–$10.5 billion. Of this, it spent $4.5 billion in the first half of 2018.
The company has reduced its 2018 capex for three reasons:
TSMC has pushed back the installation of ~$700 million worth of new equipment for advanced-node manufacturing to 2019 due to some adjustments in its relocation schedule.
TSMC has improved its efficiency, which has helped it reduce its equipment spending by ~$600 million.
The remaining $200 million in capital savings has come from the appreciation of the US dollar against the euro and the Japanese yen.
Semiconductor equipment suppliers and TSMC
TSMC's $600 million reduction in equipment spending could impact the sales of Applied Materials and ASML. However, they will likely realize the $700 million in revenue for advanced-node manufacturing in 2019 instead of 2018.
Applied Materials states its orders and revenue figures separately. These figures help the company and analysts make estimates on its future revenue. However, not all orders materialize into revenue, as orders can be canceled.
If TSMC improves its efficiency further, it could reduce its orders further. While this may bode well for TSMC, it may not bode well for Applied Materials and ASML. Next, we'll see how advanced nodes benefit TSMC.
Check out all the data we have added to our quote pages. Now you can get a valuation snapshot, earnings and revenue estimates, and historical data as well as dividend info. Take a look!