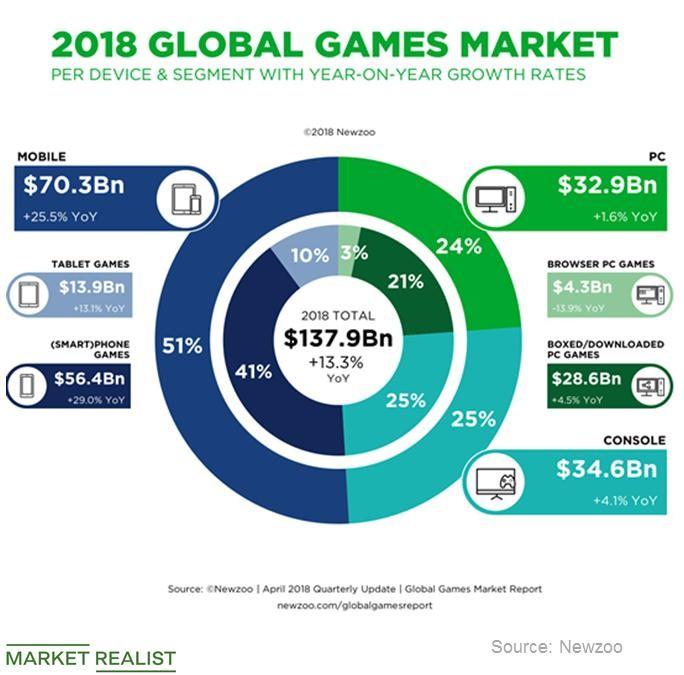 Snap May Challenge Sony In This $125 Billion Market
Tencent made $18 billion in video game sales
Snap (SNAP) is poised to release its second-quarter results amid speculations of the company taking a deeper plunge into gaming. The company is reportedly focusing on launching a gaming platform within its Snapchat app, which could see Snap follow in the footsteps of one of its largest backers, China's Tencent (TCEHY). Tencent was the world's top video game publisher by revenue last year after pulling more than $18.1 billion in video game sales, according to market intelligence company Newzoo.
Article continues below advertisement
Top 25 game companies pulled in $94 billion in revenue combined
After Tencent, Sony (SNE), Apple, Microsoft (MSFT), and Activision Blizzard (ATVI) are the other top video game publishers. Sony generated $10.5 billion from video game sales, making it the world's second-largest video game publisher. Apple's video game sales amounted to $8.0 billion last year, while Microsoft saw $7.1 billion in video game sales and Activision pulled in $6.5 billion. The top 25 game companies generated $94.1 billion in revenue combined last year.
$70.3 billion opportunity in the mobile game market
Spending on digital games could hit $125.3 billion this year, according to Newzoo estimates. The mobile game market, Snap's likely target, is expected to grow 25.5% this year to reach $70.3 billion in revenue.
Snap is currently funded almost entirely by advertising, so expanding in the gaming market could help the company diversify its business while limiting its exposure to the increasingly competitive advertising industry. To capture more advertising dollars, AT&T (T) acquired Time Warner and Verizon (VZ) created its subsidiary, Oath.