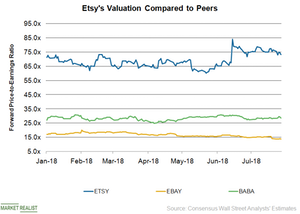 Comparing Etsy's Valuation to Its Peers'
Valuation
On July 27, Etsy (ETSY) was trading at a 12-month forward PE ratio of ~73.3x. Following its first-quarter results, its valuation multiple has increased 5.3%.
In comparison, larger peers eBay (EBAY) and Alibaba (BABA) are trading at forward PE ratios of 13.8x and 28.6x, respectively.
Comparing the forward PE valuation multiples of companies in the same sector helps investors make investment decisions. A company's forward PE is its stock price divided by analysts' earnings estimates for it over the next four quarters.
Article continues below advertisement
Article continues below advertisement
Analysts' growth estimates
Analysts expect Etsy's 2018 revenue to be $588.7 million, up 33.4%, while its EPS are expected to be $0.47 compared to $0.48 in 2017.
Etsy' management expects 2018 revenue growth in the range of 32%–34% and expects its GMS (gross merchandise value) to be in the range of 16%–19%.
A look at other online retailers' expectations
In comparison, for 2018, analysts expect Alibaba's revenue to rise 59.7% to $399.7 billion and its EPS to be $41.04 compared to $32.86 in 2017.
For 2018, analysts expect eBay's revenue to rise 12.9% to $10.8 billion, while its EPS are expected to be $2.30 compared to $2.00 in 2017. In the year, eBay expects its adjusted EPS to be in the range of $2.28–$2.32. The company expects its revenue to be in the range of $10.75 billion–$10.85 billion.
Wayfair's (W) revenue is expected to rise 38.8% to $6.6 billion, and its adjusted EPS are expected to be -$3.01 in 2018 compared to -$1.97 in 2017. Wayfair has been investing in improving its merchandise mix, increasing brand awareness, and expanding internationally to boost sales. It has also been cutting costs by improving its logistics network and eliminating or reducing the need for third-party delivery agents.