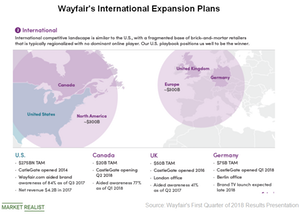 Wayfair Is Expanding International Footprint to Boost Top Line
By Victoria Dean

Updated
Canada presents a significant opportunity
Wayfair (W) has been expanding its footprint internationally to boost its top line. The advent of e-commerce has disrupted the retail sector around the world just like it has disrupted the US retail sector. The company expects this disruption to be a big opportunity to grow sales, and it believes that the experience it has in dealing with the US market will help it to flourish overseas as well. International revenue constituted about 14.4% of total revenue in the first quarter of 2018.
Canada is Wayfair's second-most developed market after the US. The Canadian business got a boost, as the company was able to leverage several of its US-based supply and logistics relationships, according to Wayfair CEO Niraj Shah on the first quarter earnings conference call. He also added that the domestic suppliers accounted for 80% of net revenue shipped to Canada.
The company plans to open CastleGate facilities totaling 800,000 feet in Canada in the current quarter to boost operations in the country. With a warehouse in the country, duties levied on the goods would be lower compared to goods shipped from the US, which would benefit consumers greatly. Also, shipping costs would be slashed, and deliveries could be made faster. Wayfair expects to ship 40% of large home parcels in a day's delivery time. It also expects to ship small parcel deliveries for 50% of the country's population in a day's time. Given the accelerated delivery speed, the company is also investing in marketing to capture a larger share of the Canadian home goods market.
UK and Germany aren't far behind
With an addressable market of $50 billion and $75 billion, respectively, the United Kingdom and Germany are also on Wayfair's radar. The company is developing its supplier base and transportation network in these two countries. Wayfair's investment in building infrastructure in these two regions has been more than in Canada, as Canadian operations got leverage from the proximity to the United States.
The company opened its CastleGate warehouse in Germany in the first quarter of 2018, whereas it opened its CastleGate warehouse in the UK in 2016.