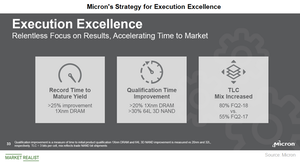 Execution Excellence Is Micron's Path to Technology Leadership
By Puja Tayal

Updated
Execution excellence
Micron Technology (MU) has been executing well on its technology road map, which has helped it to achieve cost competitiveness and even pull ahead of Samsung (SSNLF) in the NAND (negative AND) space.
An integral part of achieving cost competitiveness is strong execution, and that's what Micron's second priority is.
There are three aspects to execution excellence: production ramp-up, customer qualification, and product mix. When Micron transitions to a new node, it needs to be approved by its customers, such as NVIDIA (NVDA) and Intel (INTC), as the memory chip should be compatible with its processor designs. After securing design wins, Micron has to ramp up production and achieve a strong yield in order to enjoy cost benefits.
Micron also has to achieve bit crossover on its new technology. Bit crossover is achieved when a new technology's total output capacity exceeds that of the old technology. At this point, the company's product mix is skewed toward new technology, and its overall cost of goods sold is lowered.
Article continues below advertisement
Production ramp-up
Micron accelerated its production ramp-up and achieved a mature yield on its 1X DRAM (dynamic random-access memory), 25% faster than its 20 nm (nanometer) DRAM. It's now preparing to ramp up its 1Y DRAM. The company achieved this by setting up dedicated DRAM and NAND excellence centers near their respective fabrication facilities.
Customer qualification
Micron reduced the time required for customer qualification to accelerate the time to market. At its 2018 Investor Day, Micron's head of technology development, Scott DeBoer, stated that the company had reduced its customer qualification time for 1X DRAM and 64-layer 3D NAND by over 20% and 30%, respectively, compared to their predecessors. It achieved this by putting in place a dedicated team that ensures rapid qualification.
Micron's head of global operations, Manish Bhatia, stated that the company aims to achieve execution excellence while maintaining scale, cost, quality, and speed. We'll look into this next.