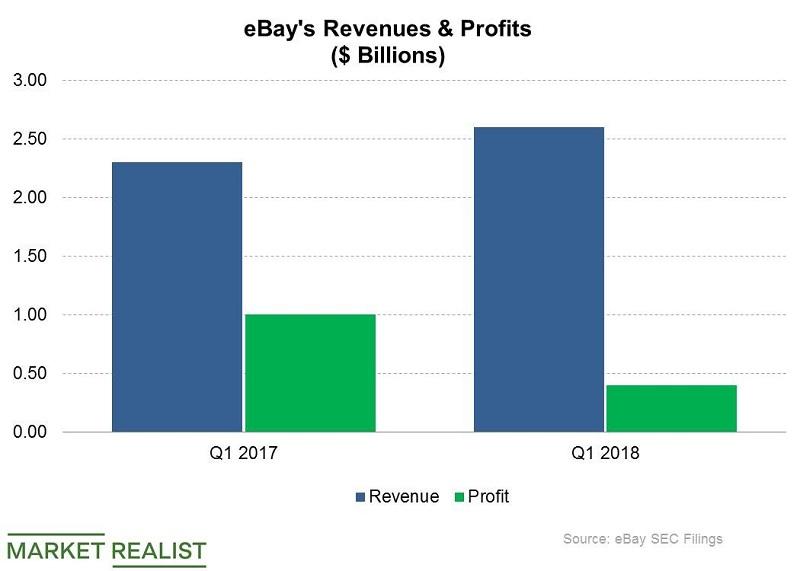 eBay and Adyen Are More Than Payment Partners
Adyen expects 40% revenue growth in 2018
When eBay (EBY) announced earlier this year that Dutch company Adyen was replacing PayPal (PYPL) as its primary payments processor, something was not discussed: the investment relationship between the companies. In Adyen's IPO prospectus, it revealed that eBay had offered warrants that could see it end up with a stake of up to 5.0% in Adyen.
Adyen is a debt-free, profitable company whose revenue is expected to grow at least 40% this year, according to a Reuters report citing the company's IPO prospectus. In the first quarter, Adyen's revenue rose 67% YoY (year-over-year) to ~$87.2 million, yielding a net profit of ~$28.2 million. eBay's revenue jumped 12% YoY to $2.6 billion in the first quarter, resulting in a $407 million profit.
The chart above shows eBay's revenues and profits for Q1 2017 and Q1 2018.
Article continues below advertisement
Adyen to handle most eBay payments
eBay's decision to drop PayPal for Adyen as its primary payment partner was partly tied to a need to cut costs. Therefore, eBay expects its Adyen deal to add $500 million to its operating profit. Adyen is expected to start handling the majority of eBay's payments in 2023, when it will process payments for traders on eBay's marketplace.
Facebook and Vodafone use Adyen's payment technology