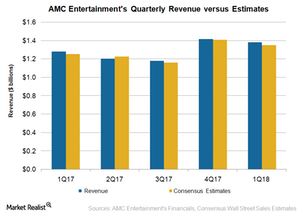 A Look at AMC Entertainment's 1Q18 Revenue Numbers
By Victoria Dean

May. 8 2018, Published 1:54 p.m. ET
Revenue rises ~8%
AMC Entertainment (AMC) reported its 1Q18 results on May 7. The company's revenue of $1.38 billion beat analysts' projection of $1.35 billion and marked a ~8% rise YoY (year-over-year). Acquisitions and strong box office ticket sales (primarily due to the success of Black Panther) have been a driving factor for AMC Entertainment. The company has acquired Odeon Cinemas, Carmike Cinemas, and Nordic Cinema Group in the past two years.
In 1Q18, its international revenue rose 38.8% YoY to $401.5 million. However, its US revenue fell 1% YoY to $982.1 million, mostly due to a lower average screen count and fewer patrons.
Admissions revenue grew 7% YoY to $875 million. The company had 90.9 million attendees in 1Q18, compared with 93.4 million in 1Q17. Its average ticket price rose YoY to $9.62 from $8.76, and its screen count rose YoY to 10,790 from 10,434.
Food and beverage revenue and other theater revenue rose 2.1% and 55.1% YoY, respectively, to $405.8 million and $102.8 million. Food and beverage revenue per patron rose YoY to $4.46 from $4.26.
Article continues below advertisement
Growth strategy
AMC Entertainment is planning capital expenditure of $450 million–$500 million in 2018 to boost the movie-watching experience for patrons. The company is working on adding recliners to its theaters and expects ~200 theaters to have recliners by the end of this year.
The company is looking to add another 20 theaters, through new constructions and acquisitions, to its footprint in 2018. Most of these additions will be in Europe.
The company expects to install over 30 Dolby screens in 2018. At its 87 top US IMAX locations, over the next five years, the company said it would be adding IMAX's latest laser projection technology and 12-channel IMAX sound system. Adding large-format screens boosts its top line as tickets for shows on these screens carry a premium.
The company is also expanding in Saudi Arabia. The country boasts a prosperous population, and the far-reaching changes being made spell opportunity for AMC Entertainment. The company said it is planning to build 30–40 theaters across 15 cities in the first five years of its collaboration with Saudi Arabia's sovereign wealth fund.