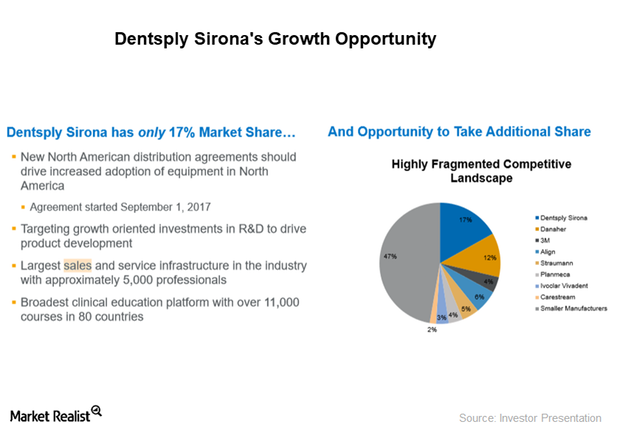 The Key Factors in Dentsply Sirona Sales Growth Plan
Overview
Dentsply Sirona (XRAY) has delivered lower merger synergies than the company had estimated. It also took an impairment charge during 4Q17 in relation to merger synergies.
For a turnaround after the merger of Dentsply International and Sirona Dental Technologies, Dentsply Sirona has made some leadership changes, as we discussed in the preceding parts of this series. The new leadership team has put in place a plan with five key priorities, and one of the biggest priority areas involves business growth going forward, which we'll discuss in more detail below.
Article continues below advertisement
Sales force effectiveness
Dentsply Sirona has around 5,800 people in sales and sales support around the world. The company plans to leverage its sales strength and improve its overall performance through targeting, training, the use of productivity tools, training on leveraging cross-sell opportunities, and delivering outstanding customer service. According to Dentsply Sirona, the company has been internally focused for the past two years and has now shifted its focus to its customers.
Innovation
Dentsply Sirona has an industry-leading R&D (research & development) budget. The company is now focusing on investing in high-impact projects in an effort to gain a better competitive position. The company believes that it has an unparalleled technology portfolio in the market and could further strengthen its market position by focusing on innovation in markets such as digital dentistry and underpenetrated implants.
Expansion
Dentsply Sirona is expanding into markets with high growth potential and untapped opportunity segments. The company believes that Latin America, the Middle East, and Asia are regions where the company has an immense opportunity. The company has a strong presence and sales base in these regions.
The company also is prioritizing growth acceleration in its Technology & Equipment segment and plans to invest in innovation in this area. With Dentsply Sirona's strong partnerships with distributors Patterson (PDCO) and Henry Schein (HSIC), the company is confident that it can deliver on its plans to accelerate its equipment business growth.