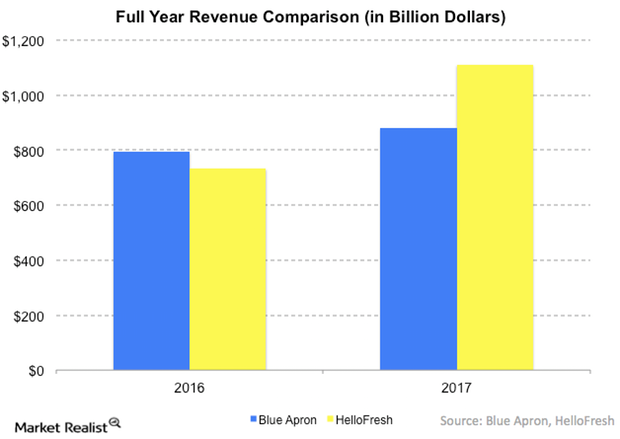 How HelloFresh Has Overtaken Blue Apron
By Sanmit Amin

Mar. 28 2018, Updated 5:21 p.m. ET
HelloFresh saw its revenue surge by 52.0% in 2017
On Wednesday, March 21, meal-kit delivery startup HelloFresh reported robust revenue growth and decreased net losses in 4Q17. The Berlin-based company saw its 2017 revenues touch $1.0 billion in 2017, which is a 52.0% increase from the revenues it generated in 2016.
This meant that the company, which went public in November 2017, beat its American counterpart, Blue Apron (APRN), in terms of revenues generated in 2017. Blue Apron's revenues grew only 11.0% in 2017, generating revenues of $881.0 million.
Article continues below advertisement
HelloFresh has been gaining momentum while Blue Apron is sliding
HelloFresh posted a net loss of $113.0 million, compared to the net loss of $210.0 million that Blue Apron recorded last year. The American meal-kit delivery company has seen a decline in its customer base, as it has been cutting its marketing costs to rein in rising expenses. Blue Apron has 746,000 subscribers whereas HelloFresh has ~1.5 million subscribers worldwide.
Blue Apron has also been seeing increased competition from other meal-kit delivery companies such as HelloFresh and Amazon, which acquired Whole Foods last year.
This trend has caused Blue Apron stock to decline nearly 80.0% from its IPO price. Meanwhile, HelloFresh has seen its stock rise by over 40.0% since its first day of trading.