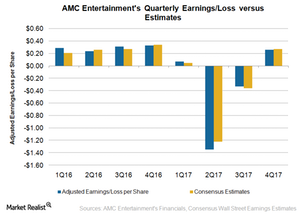 How Did AMC Entertainment's Earnings per Share Look in 4Q17?
By Victoria Dean

Updated
Operating profit in 4Q17
AMC Entertainment (AMC) reported income from operations of $70.4 million, up from $32.5 million reported in 4Q16. Increases in revenue provided a cushion against rising operating expenses. Operating expenses were up 50.7% to $1.4 billion in 4Q17. AMC Entertainment reported adjusted EBITDA of $288.2 million against $181.6 million reported in 4Q16. Adjusted EBITDA was driven by strategic initiatives and cost control efforts.
Article continues below advertisement
AMC is cutting its costs and has reduced its total capital expenditure spending. The company is also looking to generate $400.0 million through the monetization of its non-core assets over a two-year timeframe. AMC stated that it could make $100 million and $200 million in 2018 by selling non-core assets.
Disappointing EPS
The company's adjusted EPS of $0.26 per share compared with analysts' adjusted EPS of $0.27 and the company's 4Q16 EPS of $0.33. AMC's bottom line was dented by rising operating expenses.
The company's net loss came in at $276.4 million compared with net earnings of $29 million in 4Q16. Loss per share came in at $2.14 compared with EPS of $0.29 reported in 4Q16. AMC Entertainment recorded a net tax expense of $310 million related to new tax reform laws. The company also saw a 28.2% rise in its average share count, which was primarily due to the equity consideration of its Odeon and Carmike Cinemas acquisitions.
Share buybacks did provide some relief. The company had purchased shares worth $47.5 million as of the end of 4Q16. The company had announced a share repurchase plan of $100 million in August 2017.
How did Cinemark perform in 4Q17?
AMC Entertainment, Cinemark (CNK), and Regal Entertainment together represent the majority of the movie theatre business in the US. In December 2017, UK-based Cineworld made a $3.6 billion bid for Regal Entertainment, which was recently approved by Cineworld's shareholders.
Cinemark recently reported its 4Q17 results. Cinemark posted adjusted EPS of $0.82 and revenue of $750 million, which was considerably ahead of analysts' expectations of $0.48 and $745.8 million. On a YoY basis, revenue was up 7%, while EPS rose 24.2% and its adjusted EBITDA rose 11.5% to $187.5 million. Cinemark credited its 4Q17 performance to strong fundamentals as well as its strategic initiatives, which helped offset weakness in the box office performance.