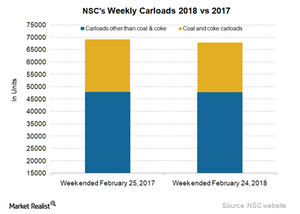 Comparing Norfolk Southern's Freight Volumes to the Industry
Norfolk Southern's carload traffic
Norfolk Southern (NSC) transports raw materials, intermediate products, and finished goods mainly in the Southeast, Eastern, and Midwest United States. For Week 8, which ended February 24, 2018, NSC had a 1.8% loss of carload traffic. It moved ~68,000 carloads that week compared with ~69,100 carloads in the week ended February 25, 2017. Its loss of carloads was in line with the carload traffic decline posted by US railroads. However, NSC's freight volume loss was far lower than rival CSX's 9.7% contraction in carloads.
Article continues below advertisement
Article continues below advertisement
In Week 8 of 2018, carloads, excluding coal and coke, were 70.3% of total carloads. The remaining 29.7% were coal and coke carloads. These carloads declined 5.2% to ~20,200 carloads compared with ~21,300 carloads last year. NSC's other than coal and coke carloads fell 0.2% in Week 8 of 2018. Norfolk Southern carried ~47,700 carloads other than coal and coke this year.
Advancing and declining commodity groups
These carload commodity group shipments pushed up overall carloads:
chemicals
grain mill products
metals and products
petroleum products
Below are the carload commodity groups that pulled down overall volumes:
food and kindred products
grain
iron and steel scrap
motor vehicles and equipment
pulp, paper, and allied products
Norfolk Southern and intermodal traffic in Week 8
In Week 8 of 2018, Norfolk Southern saw a 7.5% rise in its intermodal volumes. It moved ~83,500 trailers and containers that week compared with ~77,700 units last year. Containers accounted for 90.3% of total intermodal traffic, whereas trailers were 9.7%. Container volume rose 6.3% to ~75,400 units in 2018, from ~71,000 units last year. Trailer traffic rose 19.4% in Week 8 of 2018.
Norfolk Southern registered a 3.1% gain in overall railcar traffic in the eighth week of 2018. That was slightly higher than the gains realized by US railroads that week.
In the next part, we'll take a look at CSX's (CSX) railcar traffic.