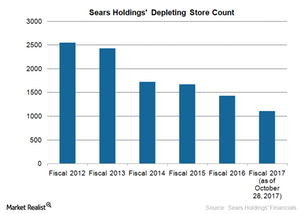 Is Sears's Store Strategy Headed in the Right Direction?
By Victoria Dean

Updated
Store closures
To improve productivity, Sears Holdings (SHLD) has been downsizing its store footprint by closing unprofitable stores as well as opening new smaller format stores. The company is also focusing on its digital business through its Shop Your Way platform.
As of October 28, 2017, the company had 1,104 stores left in total. The company's fiscal 3Q17 revenues were down 27% mostly due to store closures and reduction in comps (comparable store sales). Comps were down because of lesser consumer electronic merchandise due to a dispute with Whirlpool (WHR) and the shut down of Kmart pharmacies in some open stores.
In November 2017, the company had announced closures of another 45 Kmart stores and 18 Sears domestic stores. Again in January 2018, the company announced that it would close 64 Kmart stores and 39 Sears stores between March and early April 2018.
Article continues below advertisement
Opening smaller concept stores
Sears has now turned its attention to opening smaller specialty stores. The company opened two Appliances & Mattress stores and DieHard Auto Centers in fiscal 3Q17. The company expects these types of stores to boost the top line, as they stock some of the retailer's strongest-performing categories.  
Lack of store upkeep is a major turn-off
However, the company has deliberately chosen to stay away from the time-tested strategy of investing in stores to drive traffic. Plus, disputes with vendors have escalated recently, leading to a reduced assortment. The company recently severed a century-old partnership with electronic appliances maker Whirlpool.
Seritage hasn't helped much
In 2015, the company formed a REIT called Seritage Growth Properties (SRG). The rationale behind the creation of this REIT was to maximize Sears's real estate portfolio through the sale-and-leaseback arrangement. Under this, the REIT would lease back most of Sears's acquired properties. Also, some of the properties were leased out to third parties as well.
However, decelerating sales and increasing cash burn (nearly $1.9 billion in the first three quarters of fiscal 2017 alone) have overshadowed all of the company's turnaround efforts.