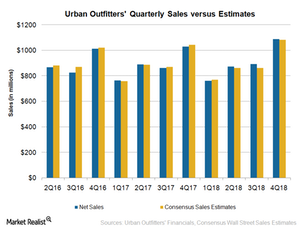 What's Urban Outfitters' Growth Strategy?
Digital: full steam ahead
Urban Outfitters (URBN) is a leading apparel retailer in the United States. The change in consumer preference for online shopping has wreaked havoc on traditional retailers. Reduced traffic at malls and heavy promotions have marred sales and profits.
The arrival of Amazon has changed the dynamics of the retail sector, making it imperative for all traditional retailers to emphasize developing their omnichannel capabilities, especially digital. Most retailers, including Urban Outfitters, Gap (GPS), American Eagle Outfitters (AEO), and Abercrombie & Fitch (ANF) are working on developing their D2C (direct-to-consumer) sales channel, especially mobile, to boost sales.
Article continues below advertisement
Article continues below advertisement
Urban Outfitters is investing in digital marketing and is focused on improving customers' shopping experience. The company launched its speed-to-customer model in fiscal 3Q18. At the fiscal 3Q18 earnings conference call, Global CEO of Urban Outfitters' Group, Trish Donnelly, stated that under this model, the company was aiming to reduce product lead time and make products available at the right location at the right time.
International expansion
Urban Outfitters is also trying to boost its top line through overseas expansion. The company is expanding the international presence of its brands through both store openings and extending the digital sales portal. The company is also enhancing its wholesale business overseas.
According to the company, Europe is a lucrative turf, and the company is looking to open more stores in this region. The company is also inking franchise agreements to open stores in Israel and the Middle East. Apart from digital and international expansion, the company is also overhauling its merchandise as well as implementing strong inventory management.
Article continues below advertisement
Store portfolio rationalization
In fiscal 2018, the company opened 18 stores, and the total store closure count was 11. As of January 31, 2018, the company operated 226 Anthropologie Group stores, 245 Urban Outfitters stores, and another 132 Free People stores. It also operates ten Food and Beverage restaurants.
The flip side
Urban Outfitters has cautioned that the rise in delivery and logistics expenses could lead to a decrease in the gross margin rate for fiscal 4Q18. Also, SG&A (selling, general, and administrative) expenses are expected to increase 4% mainly due to higher digital marketing expenditures, thereby negatively impacting operating margin.