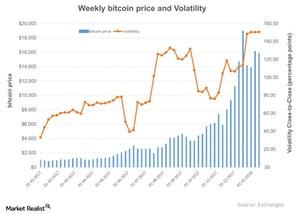 Bitcoin Retreats from Its 3-Week High of $17,712.40
Bitcoin technicals
Bitcoin touched a three-week high of $17,712.40 on January 6, 2018, and then fell. As of Monday, January 8, 2018, at 5:00 AM EST, it had a 24-hour fall of 5.4% and was trading at $16,101.10. Its volatility was close to 150%. If we look at the chart below, which depicts the weekly price and volatility, the volatility has been steadily rising. The RSI (relative strength index) level for Bitcoin was 71. An RSI level above 70 is an indicator of a possible downward revision in price.
Article continues below advertisement
Bitcoin led ETF
ETF investments broke all records last year and had $3.4 trillion in assets under management. With the exponential performance of Bitcoin and other cryptocurrencies, ARK Investment Management became the best-performing ETF of 2017. The ARK Web x.0 ETF (ARKW) rose 84% in 2017, while the ARK Innovation ETF (ARKK) rose 87.4% in 2017.
There are other top ETF providers in the market that are waiting for the SEC's (U.S. Securities and Exchange Commission) approval to launch bitcoin-based ETFs. These funds include the Direxion Indexed Commodity Strategy Fund Class A (DXCTX) and the Granite Point Mortgage Trust (GPMT). Among the other top-performing ETFs in 2017 were the Global X Lithium & Battery Tech ETF (LIT) and the Global X Robotics & Artificial Intelligence ETF (BOTZ).
Growing concerns in South Korea
The growing popularity of virtual currency in South Korea has led to the government being inclined to put a ban on it. Youbit, a South Korean cryptocurrency exchange, has filed for bankruptcy after being hacked twice in 2017, highlighting security and regulatory concerns. A South Korean financial institution will carry out an inspection of six local banks regarding concerns surrounding the growing crime in the use of assets such as bitcoin.