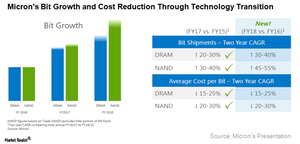 Micron's Technology Roadmap Aimed at Improving Cost Competitiveness
Micron's strategy to improve profits
In the previous part of this series, we saw that Micron (MU) is focusing its products on high-value solutions in the secular growth markets of AI (artificial intelligence), automotive, and cloud computing. The company is also advancing its technology to become cost-competitive with rivals like Samsung (SSNLF) and SK Hynix.
Over the past two years, Micron has significantly reduced the technology gap with rivals through its joint venture partnership with Intel (INTC). Micron has also expanded its manufacturing capabilities by acquiring small companies like Inotera Memories and Tidal Systems.
Article continues below advertisement
Micron's technology roadmap
At Micron's fiscal 4Q17[1. fiscal 4Q17 ended August 31, 2017] earnings call, its CEO, Sanjay Mehrotra, discussed the company's technology roadmap for calendar 2017–2018.
1X DRAM and second-generation 3D NAND
Mehrotra noted that Micron is progressing well on ramping up production of 1X, or 18nm (nanometer), DRAM and its second-generation 64-layer 3D NAND. He expects to achieve mature yields in both technologies by the end of calendar 2017. Samsung has been mass producing 18nm DRAM since 2H16.
Not only is it important to transition to new technology, but it is also important to increase the percentage of output produced on that technology. During its fiscal 4Q17 earnings call, Micron's CFO, Ernie Maddock, stated that the company expects to achieve bit output crossover for 1X DRAM before the end of calendar 2018 and for 64-layer 3D NAND by fiscal 3Q18.[2. fiscal 3Q18 ending May 2018] Bit output crossover means that the total output capacity of the new technology exceeds the total capacity of the old technology.
Compared to the 20nm node, the 1X node would improve bit shipments by 45% and reduce costs by more than 20%. The 64-layer 3D NAND would reduce costs by 30% compared to the 32-layer 3D NAND. As the company transitions to smaller nodes, the cost and output benefit would slow as the technology becomes more complex.
Next, we'll look at Micron's future technology transitions.