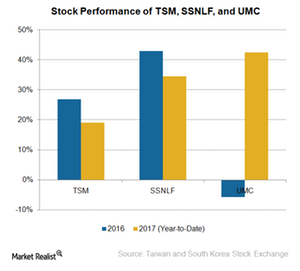 Who's Betting on Foundries like TSM and SSNLF?
Foundries
The performance of SME (semiconductor manufacturing equipment) suppliers is a bellwether for the overall semiconductor industry's outlook because these serve foundries and IDMs (integrated design manufacturers).
Foundries are third-party manufacturers that concentrate only on manufacturing technology. Many chip companies have adopted the fabless business model as the cost of building a fabrication facility or fab started to increase. These companies outsourced their manufacturing operations to foundries to avoid fixed overhead costs while enjoying the benefits of the latest manufacturing process nodes. In 2009, Advanced Micro Devices (AMD) spun off its chip manufacturing business to create Global Foundries.
Article continues below advertisement
The foundry business
Semiconductors are manufactured on a silicon wafer, and more chips can be produced on larger wafers, thereby reducing costs. Another method is to shrink the die size of each chip. According to Moore's law, every two years, the die size will likely shrink, and the number of transistors per die will increase, bringing down costs, boosting power efficiency, and improving performance.
But Moore's law has begun to slow with the 20 nm (nanometer) process node, as foundry wafer revenues from 20 nm were lower than those from 28 nm.
Slowdown in Moore's law
The 28 nm node had a longer life. SEMI expects 16 nm–14 nm technology node to suffer a similar fate, as wafer revenue is reducing every time the die size shrinks. In order to keep pace with the demand for high-performance chips, the 14 nm, 10 nm, and 7 nm nodes will all have to have multiple versions, and Intel's (INTC) and TSMC's (TSM) versions will likely be mainstream, according to SEMI.
Notably, Intel has optimized the 14 nm node with its 14 nm+ and 14 nm++ nodes. SEMI expects 5 nm to be the last node to use FinFET (fin field effect transistor) technology, which is currently used in the 14 nm, 10 nm, and 7 nm nodes.
Intel has the most advanced manufacturing technology in the industry, but TSMC and Samsung (SSNLF) are closing this technology gap by investing in new process nodes. SSNLF stock rose 34.5% in 2016 and has risen 43% YTD (year-to-date), while TSM's stock rose 19% in 2016 and has risen 27% YTD.
The foundry market's long-term growth
As the semiconductor market's growth slows, the foundry market's growth is likely to slow over the long term, according to SEMI. However, foundries don't all agree with this forecast, and some expect the market to see double-digit growth through 2020.