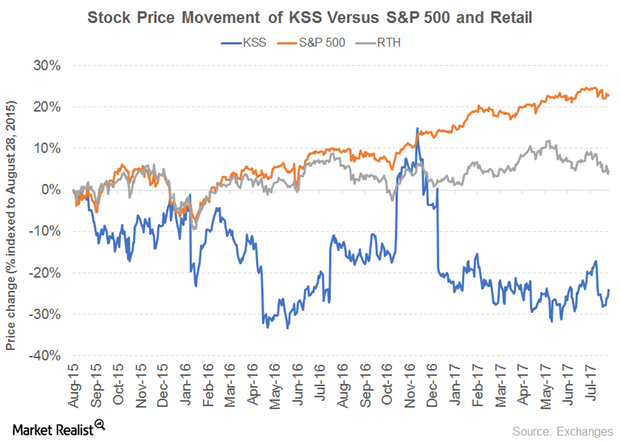 What's Contributing to Kohl's Dividend Yield
The story behind Kohl's rising yield
Department store retailer Kohl's (KSS) saw its sales fall 3% in 2016, driven by lower comparable sales, after recording growth in 2015. Like Macy's, it was impacted by online competition, store closures, discounts, and advertisements. Its operating income fell 8% in 2015 and 24% in 2016, while its operating expenses rose 3% in both years.
Article continues below advertisement
Kohl's earnings per share
Kohl's EPS (earnings per share) fell 18% in 2015 and 10% in 2016. Its free cash flow grew in 2016, driven by its operating cash flow.
Kohl's recorded a debt-to-equity ratio of 0.9x in 2016. Its stock's returns were close to those of the department store industry. The stock and industry were both beaten by the S&P 500 in 2016. The company's returns have turned negative this year.
Rising dividend yield decoded
In 1Q17, the company's sales fell 2% due to lower comparable sales. Its operating income rose 45% due to lower operating expenses and the absence of impairments, store closures, and other costs. As a result, its EPS rose 88%.
The ALPS Sector Dividend Dogs ETF (SDOG) offers a dividend yield of 3.4%, at a PE (price-to-earnings) ratio of 16.3x. The ETF has a 2% exposure to small-cap stocks. The SPDR S&P International Dividend ETF (DWX) is diversified across sectors and geographies. It has substantial exposure to Europe and financials. The ETF offers a dividend yield of 5%, at a PE ratio of 15.9x. The ETF has a 4% exposure to small caps.