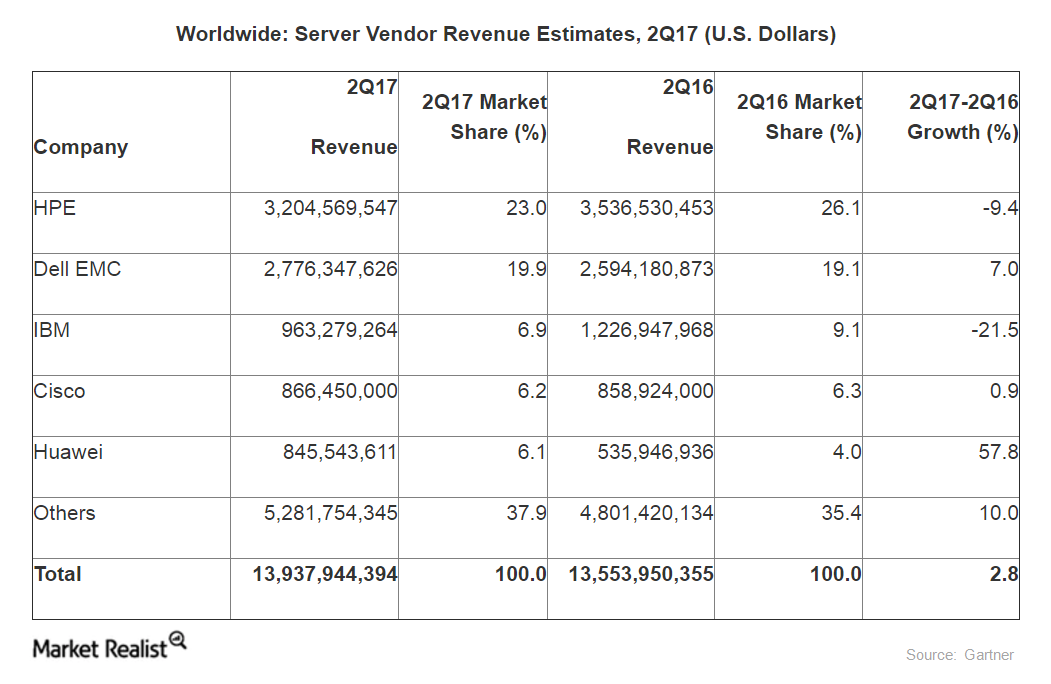 How the Server Market's Growth Impacted Oracle in Fiscal 1Q18
Server market revived in 2Q17
Earlier in this series, we discussed Oracle's (ORCL) cloud offerings' performance in fiscal 1Q18.[1. fiscal 1Q18 ended August 31, 2017] Before we look into its Hardware segment's performance, let's discuss the server market's state in terms of revenues and shipments, which has a considerable bearing on the company's Hardware segment.
Calendar 2Q17 marked the first quarter of growth after five straight quarters of decline in the overall server space. Prior to 2Q17, this space saw healthy growth, as it recorded seven consecutive quarters of year-over-year growth.
Article continues below advertisement
According to Gartner, server market revenues grew 2.8% to ~$13.9 billion, while shipments grew 2.4% to ~2.8 million units in 2Q17. International Data Corporation (or IDC) shared a similar opinion through a variety of metrics. IDC noted that global server revenues and shipments fell 6.3% and 1.9% to ~$15.7 billion and ~2.5 million units, respectively.
HPE leads the server space
Gartner and IDC agreed that Hewlett Packard Enterprise (HPE) retained its leading position in the server market. HPE was followed by Dell, as the chart above shows.
According to Gartner, International Business Machines (IBM), Cisco Systems (CSCO), and Huawei occupied the third, fourth, and fifth spots, respectively, in this space. As the chart above shows, IBM witnessed the greatest fall in its market share among the top five players from 2Q16 to 2Q17.