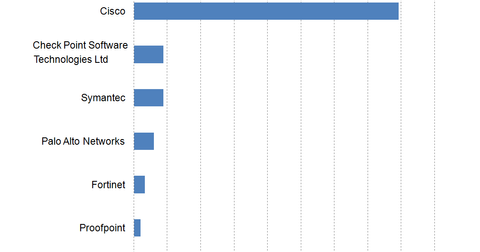 FireEye's Value Proposition in the Cybersecurity Space
By Anne Shields

Updated
FireEye's scale in the cybersecurity space
So far in this series, we've looked at FireEye's (FEYE) fiscal 2Q17 results and what technical indicators could say about its stock price movement. In this part, let's have a look at FireEye's value proposition among select US cybersecurity companies.
On August 8, 2017, Cisco Systems (CSCO), with a market cap close to $160 billion, was the largest global player in the cybersecurity space. Cisco Systems is also a leader in the overall security appliance market. Check Point Software Technologies (CHKP) and Palo Alto Networks (PANW) held 12.9% and 11.9% of the market share, respectively, in the security appliance market. Fortinet (FTNT) and Huawei make up the remaining top five cybersecurity players list. 
Article continues below advertisement
Renewed focus on security offerings bodes well for FireEye
As you can see in the above graph, FireEye, based on its market cap of ~$2.6 billion at the end of trading on August 8, 2017, occupies a much lower position than its peers in the cybersecurity space. A company's market capitalization is calculated by dividing its stock price by its number of shares outstanding.
Recent cybersecurity attacks such as WannaCry and Petya made companies examine and improve their current IT security practices. FireEye is a pioneer in sandbox technology and aims to revive its fortunes in this space by its recently launched security platform Helix. The company can leverage this opportunity to scale up in the rapidly growing cybersecurity space.
An improved outlook for the company as well as a renewed focus on security offerings could provide a boost to FireEye's market cap and stock.
FireEye's geographic concentration in the United States could benefit the company, as the US government's (SPX) spending on cybersecurity is forecast to reach $19.0 billion in fiscal 2017.