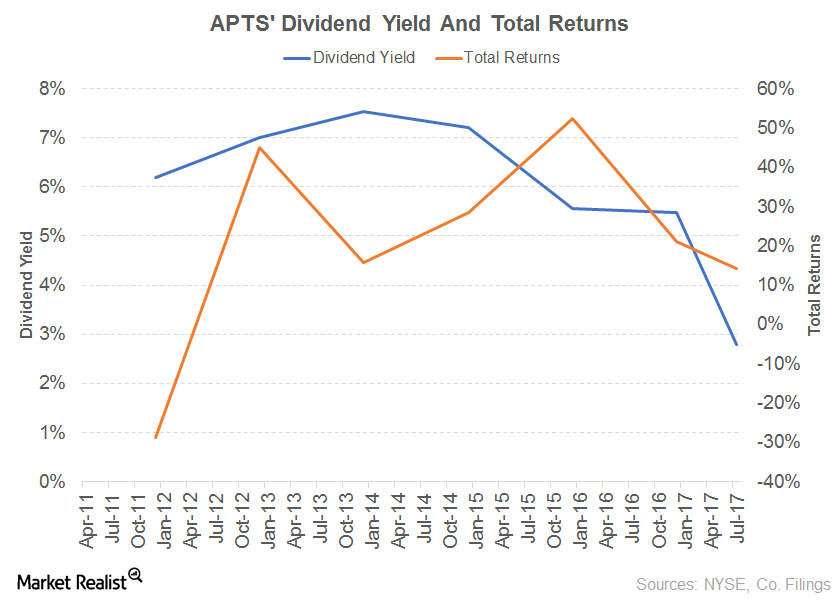 Preferred Apartment Communities' Dividend Background
Preferred Apartment Communities' dividend history
Preferred Apartment Communities (APTS) paid 41.0% of its earnings as dividends in 1Q17. It also declared a dividend in 2016 despite negative EPS (earnings per share). The REIT's IPO date was April 1, 2011. The REIT has managed to grow its dividend rate since its IPO.
The quarterly dividend payer recorded an average dividend yield of 6.5% and an average total return of 22.3% between April 2011 and April 2016. It recorded a dividend yield of 2.8% and total returns of 14.1% on a YTD (year-to-date) basis.
Article continues below advertisement
Fundamentals
The REIT is mainly involved in the acquisition and operation of multifamily apartment properties. APTS recorded growth of 83% and 59% in 2016 and 1Q17 (versus 1Q16) revenues, respectively. It also recorded growth of 13% compared to its 4Q16 revenues. This growth was driven by every segment. However, higher operating expenses and interest expenses led to negative EPS for 2016 and 1Q17.
APTS has recorded growth in FFO (funds from operations) in the last five years. While its growth has dipped in 2016, this FFO growth still it is a feat unmatched by the majority of the REITs mentioned in this series. Its financial leverage has been the lowest compared to its peers. A dividend yield of 5.7% compares to a sector average of 6.6%.