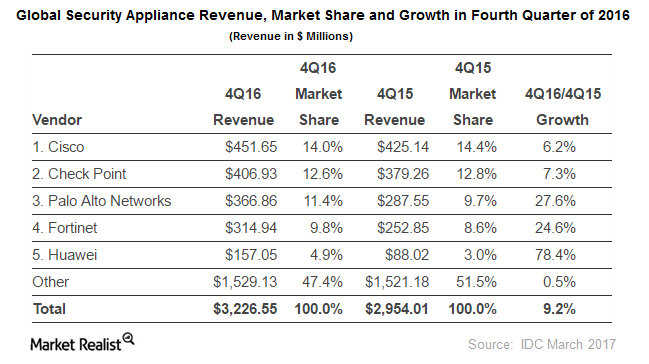 Petya's Role in the Recent Cybersecurity Stock Surge
Stimulus to cybersecurity stocks
Article continues below advertisement
Cybersecurity spending is set to increase in Europe
Surges in cybersecurity attacks often lead to higher spending on cybersecurity among corporations and governments. Cisco Systems (CSCO), a cybersecurity giant, is the largest security vendor by revenue. In 2016, overall security appliance revenues rose 8.9% to $11.5 billion.
At the same time, the security appliance market has experienced growth across regions, with Asia-Pacific showing particular growth.
Spending in the UK and Europe
According to Brian Lord, managing director of cyber and technology at PGi, a cybersecurity firm, as outdated IT (information technology) systems get updated, spending on cybersecurity protection will likely rise 10.0% in the UK and Europe by 2020.
Investors who don't want to invest directly in a cybersecurity stock can gain exposure to the space by investing in the PureFunds ISE Cyber Security ETF (HACK). HACK invests in 40 cybersecurity companies, including FireEye, Proofpoint (PFPT), Barracuda Networks, Fortinet (FTNT), Symantec (SYMC), Cisco Systems (CSCO), and Palo Alto Networks (PANW).