Chart in Focus: AMD's Moore's Law Plus Concept
AMD developed the concept of Moore's Law Plus to drive future innovation.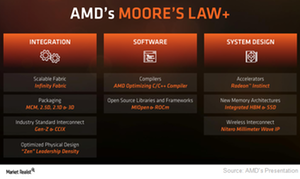 Moore's law slows
In the past, Advanced Micro Devices (AMD) had suffered from delayed product launches because it used highly specialized semiconductor nodes that it had built. As a result, any process difficulties and yield issues were specific to the company.
In 2012, AMD spun off its manufacturing unit, Global Foundries, and became a fabless company. This helped it address the problem of process technologies and yield difficulties. In 2016, the company launched its first product on the 14nm (nanometer) process node, bringing it on par with its competitors Intel (INTC) and NVIDIA (NVDA) in terms of process technology.
However, Moore's law is slowing. Moore's law states that the size of the chip would shrink every two years and the number of transistors would double, thereby improving performance and reducing cost and power consumption.
As Moore's law slows, companies are looking for innovative ways to power the next generation of computing capability. AMD developed the concept of Moore's Law Plus to drive future innovation.
Article continues below advertisement
Article continues below advertisement
AMD's concept of Moore's Law Plus
At its 2017 Financial Analyst Day, AMD's chief technology officer, Mark Papermaster, explained that its semiconductor technology alone cannot address the company's future computing needs. As a result, AMD has adopted a three-pronged approach to drive future generation chip development: integrate hardware, software support, and design from a system perspective.
Integrate hardware
AMD is improving its core architecture to integrate with other hardware. The company developed Infinity Fabric, which connects multiple chips efficiently and provides greater control with respect to power and security.
AMD is advancing its packaging from the current MCM (multichip modules) and 2.5D pack unit to 3D packaging.
The company has collaborated with industry participants like IBM (IBM) and Xilinx (XLNX) in developing an industry-standard interconnect like CCIX (cache-coherent fabric to interconnect accelerators). CCIX would provide high-performance connectivity and rack scale for different accelerators and server processors.
AMD is also looking to optimize the physical design of its chips by making them denser and more power-efficient.
Article continues below advertisement
Software support
AMD is supporting its hardware with very high-performance software solutions. Instead of locking the software, AMD has adopted an open computing platform that allows users to download and upload information for free.
The company is using C/C++ Compiler and advanced frameworks like ROCm (Radeon Open Compute platform) to support hardware.
System design
Semiconductor and software technology cannot deliver the desired computing power in isolation. All these technologies are integrated into a system design. For instance, AMD's Radeon Instinct Initiative would integrate the Ryzen CPU (central processing unit), the Vega GPU (graphics processing unit), HBM2 (high-bandwidth memory), and ROCm to deliver machine learning and heterogeneous computing systems.
AMD has recently acquired wireless millimeter-wave interconnect technology that it plans to use in developing wireless VR (virtual reality) headsets.
Next, we'll look at AMD's new CPU architecture.