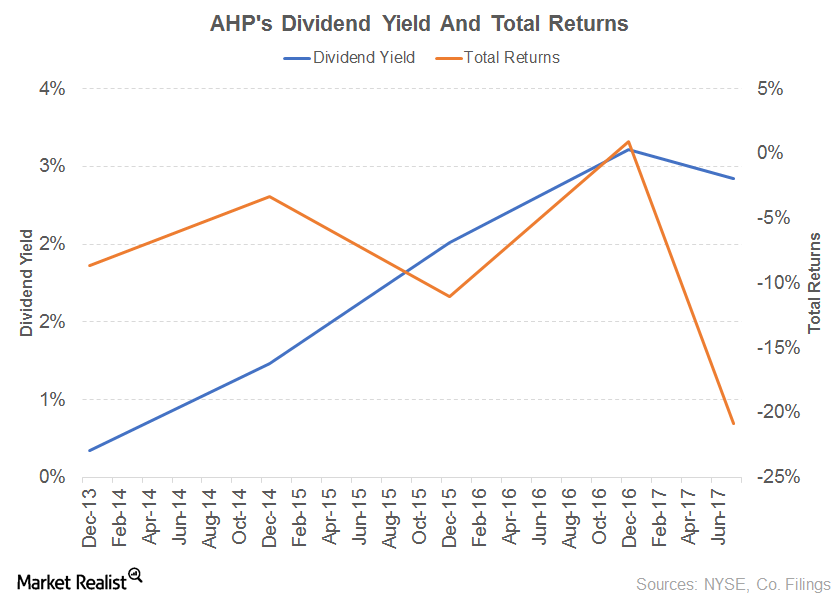 Ashford Hospitality Prime's Dividend Confidence
Ashford Hospitality Prime's dividend despite negative EPS
Ashford Hospitality Prime (AHP) has paid 98.4% of its earnings as dividends in 2016. It also declared a dividend for 1Q17 despite negative EPS (earnings per share). The first dividend was announced on December 16, 2013, after it spun off from Ashford Hospitality Trust in November 2013.
The REIT has recorded consistent growth in its dividend rate. The quarterly dividend payer has recorded an average dividend yield of 1.8% and an average total return of -5.5% between November 2013 and November 2016. It recorded a dividend yield of 3.1% and a return of -20.9% on a year-to-date (or YTD) basis.
Article continues below advertisement
Fundamentals
AHP invests mainly in full-service luxury hotels and resorts. The REIT recorded growth of 16% and 4% in its 2016 and 1Q17 (versus 4Q16) revenues, respectively. The REIT's 1Q17 revenues have declined 3% compared to 1Q16 due to lower contributions from rooms and food and beverages.
Higher revenues and operating income translated into 2016 EPS growth. AHP's 1Q17 earnings per share were the lowest, followed by 1Q16 and 4Q16. All EPS readings ended in the red, driven by lower operating income and higher Other losses and expenses.
After negative growth in FFO (funds from operations) in 2013 and 2015, the REIT has succeeded in recording phenomenal growth in 2016. It has a moderate financial leverage compared to its peers. AHP's price-to-earnings multiple of ~21.0x compares to a sector average of 25.5x. A dividend yield of 6.1% compares to the sector average of 5.4%.