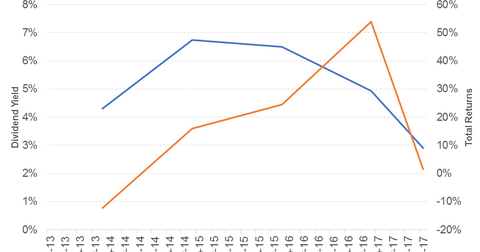 Armada Hoffler Properties' Dividend Yield
By Amanda Lawrence

Jul. 26 2017, Published 12:11 p.m. ET
Armada Hoffler Properties' dividend performance
Armada Hoffler Properties (AHH) has paid 85.0% of its earnings as dividends in 2016 compared to 119.0% in 1Q17. The REIT was formed in October 2012, and the first dividend was announced on June 19, 2013. It has recorded consistent growth in its dividend rate since its inception. 
As a quarterly dividend payer, Armada Hoffler Properties has recorded an average dividend yield of 5.6% and an average total return of 20.5% between May 2013 and May 2016. It has recorded a dividend yield of 2.9% and a total return of 1.5% on a YTD (year-to-date) basis.
Article continues below advertisement
Fundamentals
AHH develops, builds, and provides general construction and development services to third-party clients throughout the Mid-Atlantic and Southeastern regions of the US. Its 2016 total revenues recorded 2% growth, particularly driven by general contracting and real estate services revenues. Its 2016 EPS (earnings per share) recorded 13% growth, driven by Other incomes and gains.
The REIT's 2016 revenue growth was driven by rental revenues, offset by general contracting and real estate services revenues. Higher operating income further translated into 2016 EPS growth. Its growth of 51% (versus 1Q16) and 18% (versus 4Q16) with respect to 1Q17 revenues was driven by rental and general contracting and real estate services revenues. 
Growth
The 78% growth in AHH's 1Q17 EPS compared to 4Q16 was driven by higher operating income and other income and gains. Its 72% decline in its 1Q17 EPS compared to 1Q16 was driven by Other income and gains in 1Q16.
AHH has not only recorded growth in its FFO (funds from operations) in the last five years, but it has also succeeded in accelerating the growth rate, unlike the rest of the REITs in our review. AHH has reduced its 2015 financial leverage by 52.0% in 2016. AHH's price-to-earnings multiple of 23.4x compares to a sector average of 51.1x. Its dividend yield of 5.8% compares to a sector average of 4.2%.