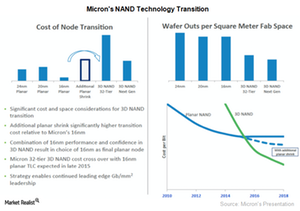 Micron's Strategy to Become Cost-Competitive
Technology transition helps Micron become cost-competitive
In the previous part of this series, we saw that the memory industry's aggregate profit has increased over the years due to the consolidation of memory players and the diversification of end markets. Micron Technology (MU) leveraged this profit opportunity by transitioning to advanced technology to become more cost-competitive.
Over the last two years (2015–2017), Micron reduced its DRAM (dynamic random access memory) production cost an average annual rate of 15.0%–25.0% by transitioning completely to a 20 nm (nanometer) node and starting mass production of the 1X node. Micron still produces a major portion of its DRAM on the 20 nm node, while Samsung (SSNLF) has already transitioned most of its production to an advanced node.
Article continues below advertisement
Article continues below advertisement
In the NAND space, Micron reduced its production cost an average annual rate of 25.0%–30.0% by skipping a node shrink in the planar NAND and directly jumping into the 32-tier 3D NAND technology. That put Micron ahead of SK Hynix in the NAND space. However, Micron is still behind Samsung, which started mass production of the 3D NAND 18 months before the US-based chipmaker.
Cost gap between Micron and its peers
Micron is behind its competitors in terms of cost since it faced a slow period between 2013 and 2015. In the DRAM segment, the company acquired Japan's (EWJ) Elpida Memory, which diverted Micron's attention and resources toward integrating the acquired company. It was thus slow to roll out the 20 nm node.
In the NAND segment, Micron decided not to invest time and money into the planar NAND node shrink. Instead, it directly jumped to the first-generation 3D NAND technology in order to gain leadership in this area. The 3D NAND technology helped Micron significantly reduce its production costs, giving it a cost advantage over its peers that are producing planar NAND. That improved Micron's competitive position in the Mobile Flash and SSD (solid state drive) markets.
Micron is looking to reduce the cost gap with its competitors by transitioning to the 1Y DRAM node and 64-tier 3D NAND technology. That could help the company report a slightly higher growth rate than the industry.
Although cost leadership would help Micron report better earnings, it's still vulnerable to the memory industry's cycle. Next, we'll see how the industry cycle would impact Micron.