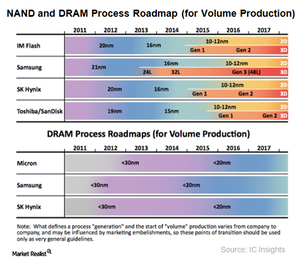 Micron Doubts That China Could Sustain in the Memory Market
Industry know-how 
In the previous part of this series, we saw that China (MCHI) would have a tough time acquiring IP (intellectual property) to produce DRAM (dynamic random access memory) and NAND. At the Bank of America Merrill Lynch 2017 Global Technology Conference, Micron Technology's (MU) chief financial officer Ernest Maddock said that even if China succeeds in securing legitimate IP, it would still fail in the memory market.
He explained that the memory market faces several technological, industrial, operational, and economic challenges that can only be addressed through years of experience of thousands of people. He termed this entry barrier as industrial know-how.
Micron and its competitors have faced yield issues, design qualification issues, and more. The know-how developed through these experiences is vast. So even if China poaches several engineers from memory manufacturers, it would still lag behind in industrial know-how.
Article continues below advertisement
Article continues below advertisement
Rate of innovation
Even if China manages to develop a 32-layer 3D NAND or a 20 nm (nanometer) DRAM by 2019, the overall memory industry would be at an even more advanced node. Maddock explained that the DRAM industry currently transitions to a new technology every 18 months and the NAND industry every 12 months. Currently, Samsung (SSNLF) and Micron are developing a 64-layer 3D NAND, and SK Hynix is developing a 72-layer 3D NAND.
Every new technology is getting more complex and material-intensive, which requires equipment and know-how. By the time China reaches a 32-layer NAND, other industry players might be at a 96-layer NAND with perhaps a 3X density advantage and a 4X cost advantage over 32-layer.
Would China be able to sustain in the memory market?
Chinese memory makers would find it difficult to sell a memory chip that's larger, slower, expensive, and consumes more power. Even if they do manage to sell their memory chips, the industry players might take legal action for patent infringement. That would make it difficult for China to sustain in an already consolidated memory market.
Despite all these hurdles, Micron doesn't underestimate China and considers it to be a potential threat.
Next, we'll look at Maddock's thoughts on DRAM capacity.