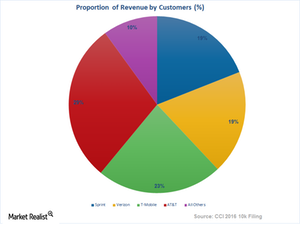 Is Telecom Consolidation Threatening Crown Castle?
By Jennifer Mathews

Jun. 29 2017, Updated 10:36 a.m. ET
Merger-friendly Trump rule spikes M&A activities in telecom
The changing political scenario under the Trump administration has led to the anticipation of widespread M&A (mergers and acquisitions) activity in the telecom industry. The new merger-friendly FCC (US Federal Communications Commission) board under Trump is expected to trigger a frenzy of deals between telecom giants, leading to consolidation in the industry.
Some market analysts believe that under the leadership of Ajit Pai and Jeff Eisenach, Trump's FCC team is expected to unblock several blocked deals of the past while allowing new ones.
Article continues below advertisement
Probable mergers in the domestic market
Shares of telecom companies are already rallying, as Trump has promised to keep regulations on the telecom industry light. The T-Mobile (TMUS) and Sprint (S) deal appears to be the first in line. The two telecom providers have reported finalizing their talks over the deal, which has yet to be officially announced.
How will consolidation affect CCI's profits?
With growing consolidation in the telecom industry, wireless towers and smallcell asset owners including Crown Castle (CCI) have started to experience headwinds. Consolidations and mergers usually result in higher churn rates among tenants. Wireless real estate owners earn revenues from the mobile service providers, and mergers result in the shrinking of their customer bases.
For 2016, more than 90% of site rental revenues were derived from AT&T (T), Verizon Communications (VZ), T-Mobile, and Sprint (S). CCI derives more than 90% of its revenue from S, VZ, T, and TMUS. The loss of any one customer due to consolidation will lead to significant declines in revenues and impairments in wireless infrastructure assets.
On the other hand, some believe that consolidation will lead to a market rationalization process and could result in a positive long-term structural measurement. Mergers and acquisitions will leave only well-capitalized tenants, for example, to support the industry—those companies that engage in competition.
Crown Castle makes up almost 5% of the PowerShares Active US Real Estate ETF (PSR).