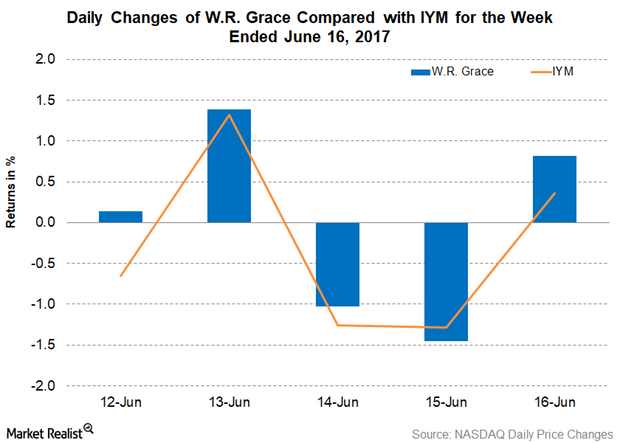 Grace Signs New License Contract with Hengli Refinery
Grace signs new license contract with Hengli Petrochemical Refinery
On June 13, 2017, W.R. Grace (GRA) entered a contract with Hengli Petrochemical Refinery to license its UNIPOL PP process technology to be installed at the facility in Dalian, China. The facility is expected to begin operations in 2019. However, GRA didn't disclose the financial aspects of the deal.
GRA's UNIPOL PP process technology is a gas-based technology that uses less equipment than other competitors, which helps to save capital, operating, and maintenance costs. Al Beninati, president of GRA's specialty catalysts business segment, said, "Grace is proud to partner with Hengli Petrochemical and continue our record of service to customers in China. We believe this represents more evidence that our industry-leading process technology and catalysts technologies combine to provide our customers unparalleled flexibility to deliver the resins that are in highest demand."
Article continues below advertisement
W.R. Grace stock performance for week ended June 16
GRA closed at $70.53 with a fall of 0.2% for the week ended June 16, 2017. Although the stock fell marginally, it managed to trade 0.7% above the 100-day moving average price of $70.03. GRA has an RSI (relative strength index) of 48, indicating that the stock in neither overbought nor oversold. An RSI of 7o and above suggests an overbought situation while an RSI of 30 and below suggests an oversold situation. On a year-to-date basis, the stock has returned 4.9%.
Investors can hold GRA indirectly by investing in the iShares U.S. Basic Materials ETF (IYM), which holds 0.8% of its portfolio in GRA. The top holdings of the fund include Dow Chemical (DOW), DuPont (DD), and Monsanto (MON), which have weights of 11.9%, 11.8%, and 8.6%, respectively, as of June 16, 2017.