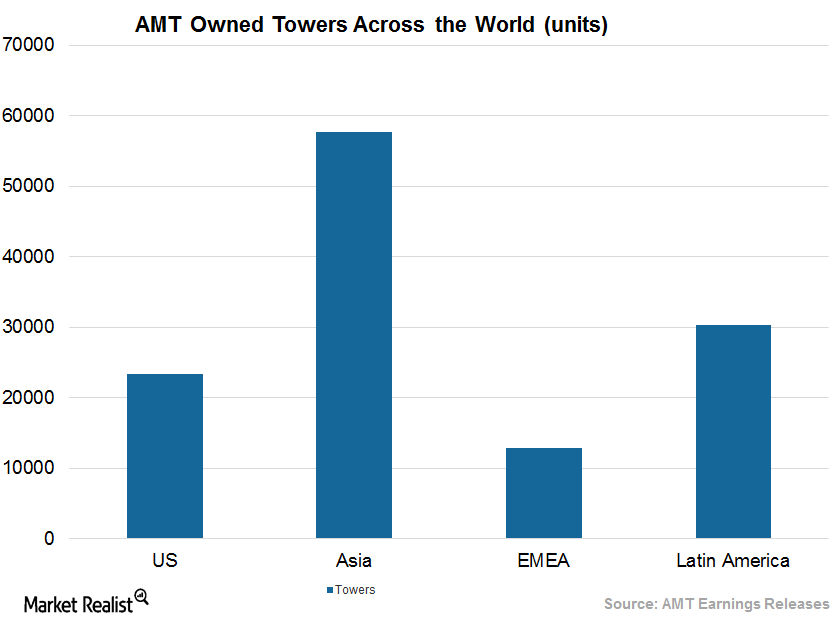 Crown Castle amid the 5G Threat to Cell Towers
<p>Many wireless providers are now opting for 5G (fifth-generation) technology for higher speeds and network reliability.</p>
Are small cells taking over towers?
Many wireless providers are now opting for 5G (fifth-generation) technology for higher speeds and network reliability. Unlike 4G, 5G doesn't require towers but uses small cell networks that can be mounted on utility poles, street lights, and other locations on public property.
But such an infrastructure could be a threat to the wireless tower business of REITs (real estate investment trusts) like Crown Castle (CCI), American Tower (AMT), and SBA Communications (SBAC). The 5G spectrum uses frequencies up to 100 GHz (gigahertz), enabling high-resolution 8K video, which requires small cells that accessible via fibers.
Article continues below advertisement
Article continues below advertisement
CCI doesn't see 5G as a threat
Crown Castle doesn't consider small cells to be an alternative to its cell towers but sees them as additions to its tower business—especially in densely populated urban areas. Its tower business accounted for 88% of its total revenues in 2016, and it has almost 40,000 towers dispersed across 100 BTAs (business trading areas).
CCI has acquired ownership interests or rights to its towers from the four major wireless carriers (or their predecessors): AT&T, T-Mobile, Global Signal, and Verizon Wireless (VZ). CCI acquired ~9,100 towers through an AT&T acquisition in 2013. In 2012, CCI acquired rights to ~7,100 towers through a T-Mobile acquisition.
Since CCI's towers are leased until 2020, it appears that there's not much chance of 5G being a viable solution in rural and suburban regions by that time. Such networks are effective only in densely populated regions and work within a small distance. Wireless carriers in rural areas and suburban regions use a low-band spectrum, which is the most cost-effective and technologically effective way to cover such locations.
Small cells in dense metropolitan areas
Wireless towers are located in suburban and rural areas, where the majority of the US population resides. But the population is not as dense in these areas as in metropolitan areas.
By contrast, the 5G spectrum, which operates through small cells like DASs (distributed antennae systems), are made up of antennas installed on rooftops or street light poles or utility poles and work with a short range propagation radius.
Notably, American Tower and Crown Castle together make up ~11.5% of the PowerShares Active US Real Estate ETF (PSR).