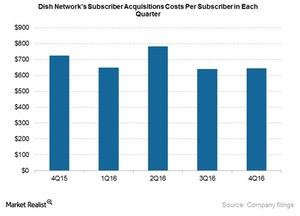 How Dish Network's Subscriber Acquisition Cost Affects Its Churn Rate
By Shirley Pelts

Updated
Subscriber acquisition cost
Subscriber acquisition cost (or SAC) is a key criterion for pay-TV companies such as Dish Network (DISH). Dish Network incurs SAC to acquire new subscribers or retain existing ones. Advertising spending is a key component of SAC, in addition to costs incurred to install HD and DVR (digital video recorder) receivers.
As you can see in the chart above, Dish Network's SAC has been falling steadily. Dish Network noted in an earlier earnings call that its marketing costs have been rising since it launched its Sling TV service. The company also stated that it added content more as a means to target new users than to counter its existing competition.
As a result, Dish Network's SAC was dependent on the ratio of expenditures between its Sling TV business and its pay-TV business. Currently, the company expects its SAC to be in the lower range.
Article continues below advertisement
Dish Network's churn rate
Dish Network (DISH) had an average monthly pay-TV churn rate of 1.8% in 2016, and it detailed the factors affecting its churn rate during its fiscal 2016 earnings call. Dish Network's pay-TV business is facing increasing competition in areas where its service overlaps with competing pay-TV services such as Comcast (CMCSA). 
Dish Network is also looking at less-competitive market areas where its pay-TV business could thrive. As a result, the company is targeting customers who are reluctant to pay higher fees for cable services by offering packages such as the Flex Pack.