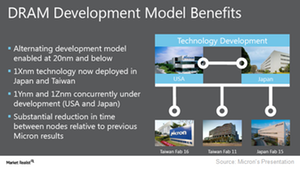 Micron Technology's Competitive Position in the DRAM Market
DRAM market
DRAM (dynamic random access memory) prices have been increasing since June 2016 after falling significantly in 2015 and 1H16. DRAM prices fell as Samsung (SSNLF), SK Hynix, and Micron Technology (MU) increased their DRAM output. However, this led to an oversupply situation that sent prices spiraling down. This saw Micron Technology's DRAM revenues fall 30% YoY (year-over-year) to $7.2 billion in fiscal 2016 ended August 2016.
In mid-2016, Samsung and SK Hynix stopped DRAM production, which created a balance in supply and demand and subsequently increased DRAM prices.
Cowen & Co. analyst Tim Arcuri estimates Micron Technology's DRAM ASP (average selling price) to rise 19% sequentially in fiscal 2Q17. However, the price would fall gradually as SK Hynix resumes DRAM production.
Pacific Crest analyst Weston Twigg expects DRAM output to rise 8% in 2017. Micron Technology expects DRAM supply to grow at a CAGR[1. compound annual growth rate] of 15%–20%.
Article continues below advertisement
Micron improves its competitive position
According to DRAMeXchange, Samsung, SK Hynix, and Micron had market shares of 47.5%, 26.7%, and 19.4%, respectively, in 4Q16. Earlier, Micron Technology was behind Samsung and SK Hynix in terms of process node and cost. This time, Micron Technology is in a stronger position with its 20nm (nanometer) rolled out.
According to DRAMexchange, Samsung is expected to transition to the 18nm node and produce 40% of its DRAM output on this node by the end of 2017. SK Hynix plans to transition to 18nm in 2H17. Micron has already started transitioning to the 18nm/1X node.
Micron's DRAM spending
Micron Technology (MU) has achieved a 25% cost reduction by transitioning from 25nm to 20nm. In fiscal 2017, it would spend around $2.2 billion in capex on DRAM production. A majority of this amount would be used to ramp the 1X node and a very small amount toward the 1Y development and 20nm completion. It expects the transition from 20nm to 1X to reduce its cost another 20%.
DRAM development model
Micron Technology (MU) has also implemented a development model to streamline the transition, and the 1X node is the first to come out of this model. The company is deploying 1X node in Japan (EWJ) and Taiwan (EWT). It has aligned the management, capability, and methodologies across the two facilities to facilitate rapid execution.
The company expects to produce a major portion of its DRAM output on the 1X node by the end of fiscal 2017. The 1X technology is critical for some mobile, graphics, and server products.
Micron Technology's development centers in the US and Japan are working on 1Y and 1Znm technology. It expects to start manufacturing the 1Y node in 2H17.