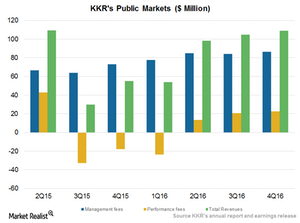 KKR Public Markets Could See Slower Growth in 2017 on Rate Hikes
Public markets
Public markets have performed well over the past couple of quarters mainly due to a rebound in energy prices (USO), which has led to rising prices of distressed credit. Overall, KKR's (KKR) Public Markets segment's performance improved on higher performance fees.
In 4Q16, the segment reported total revenues of $109 million as compared to $55 million in 4Q15. Public markets' performance fees rose to $23 million as compared to a loss of $18 million in 4Q15 and income of $21 million in 3Q16.
The segment's performance improved in 4Q16, primarily due to its special situations platform, multiple credit strategies, and domestic collateralized loan obligations (or CLOs).
KKR posted an operating profit last year. KKR's competitors had the following operating margins:
Together, these companies make up 4.1% of the PowerShares Global Listed Private Equity ETF (PSP).
Article continues below advertisement
Assets under management
KKR's Public Markets segment ended 4Q16 with AUM (assets under management) of $55.7 billion, a YoY (year-over-year) rise of $2.2 billion. The company raised capital of $2.7 billion, primarily in its Special Situations Fund platform. It saw a decline in its portfolio valuations of $135 million and distributions of $2.7 billion.
Of KKR's total AUM, its fee-paying AUM stood at $49.3 billion, a rise of $125 million as compared to 3Q16. KKR deployed $1.6 billion in 4Q16 as compared to $1.5 billion in 3Q16 and $1.7 billion in 4Q15. The company could see higher deployments in the upcoming quarters, as a rate hike from the Fed could trigger lower prices for bonds. However, as the long-term trajectory indicates higher rates, the company could see a careful allocation of capital towards credit.
In the next part of the series, we'll study KKR's capital markets activity and benefits.