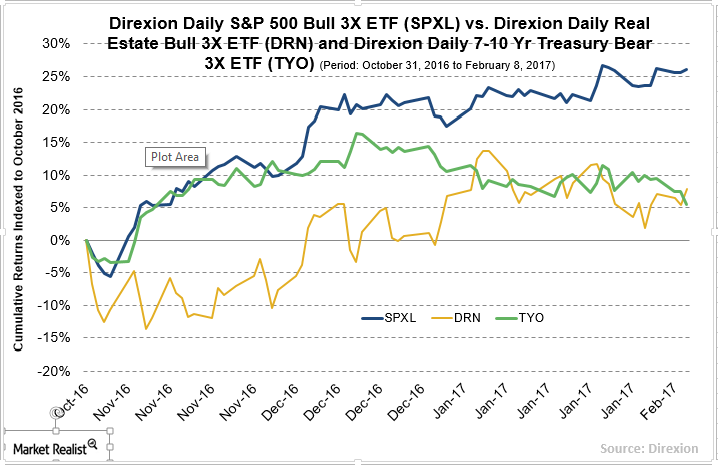 Why Interest Rates Have Risen since the Election
Direxion
Repercussion of Trump tactics: Higher rates
Higher rates affect different industries in different ways. However, before we discuss the effect of higher rates, let's look at why rates have moved up since the election. First, rising expectations for growth drive up inflation and longer-term bond rates. Second, the aforementioned potential tariffs could also drive up inflation and thus interest rates. Third, reducing the amount of cash on banks' balance sheets could again lead to inflation (this could be an outcome of reducing Dodd-Frank regulations) due to higher money supply. Fourth, launching a large infrastructure spending program while the unemployment rate sits under 5% could also put upward pressure on wages and likely inflation.
Higher interest rates in and of themselves are not necessarily bad, but they do affect highly sensitive interest rate industries like utilities and real estate in an outsized way.
Conclusion: …Direction Matters…
Article continues below advertisement
No one really knows how things will play out with all of the moving pieces the newly elected 45th president of the United States has put in motion. But it is clear that understanding what will happen to each part of the economy as we move forward as a nation will have a huge impact on investing and returns. No longer can investors simply rely on low interest rates to help fuel the stock market as a whole. Financials and industrials are up, tech is underperforming, defense and pharma companies are targets, and interest rates can wreak havoc on some sectors now, and maybe the entire economy down the line. Uncertainty and opportunity will rule, but Direxion can help.
Trump's pro-economy proposals such as tax cuts and heavy spending on infrastructure could cause the Federal Reserve to speed up interest rate hikes. The economy could heat up under Trump's new proposals, which has caused yields to move higher. The yield on ten-year Treasuries has risen from 1.9% on the day before the election to 2.5% currently. That has caused yields to move higher.
Rate-sensitive stocks such as utilities (UTLZ), REITs (DRN), and staples (SPLZ) have taken a hit due to rising yields.