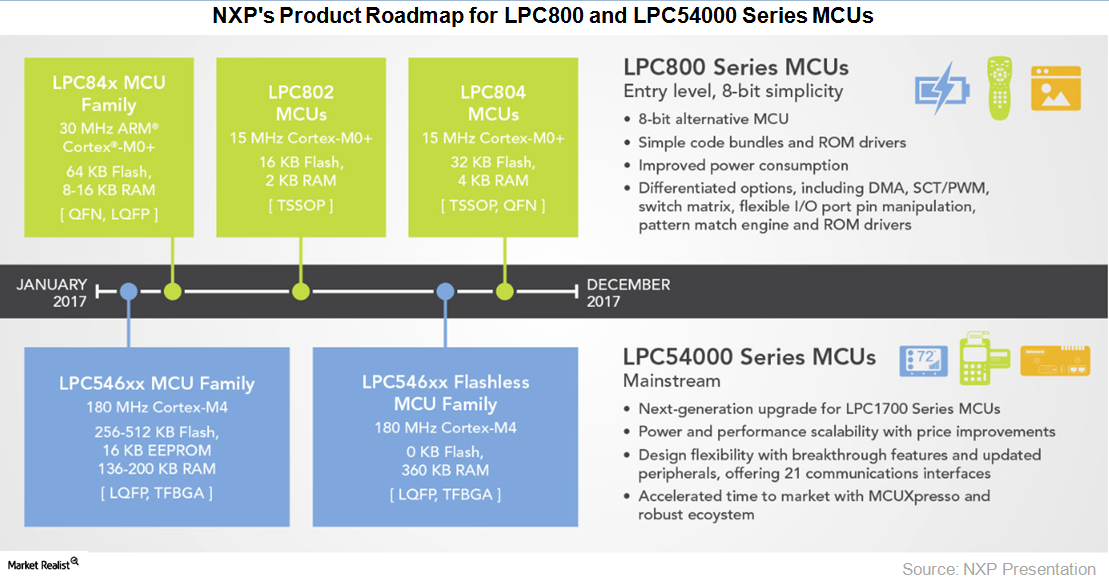 What Is NXP Semiconductors's Product Roadmap for Automotive?
By Puja Tayal

Feb. 2 2017, Updated 9:06 a.m. ET
NXPI's product roadmap for automotive
In the previous part of this series, we saw that NXP Semiconductors (NXPI) is a leader in the automotive semiconductor market and is well-placed to grow in this space. Hence, the company is developing new products that support automation in cars.
NXP Semiconductors manufactures MCUs (microcontrollers), MPUs (microprocessors), analog, sensors, NFCs (near-field communications), RF (radio frequency), and standard products to support in-car infotainment, ADAS,[1. advanced driver assistance systems] and IoT (Internet of Things) applications. At the CES (Consumer Electronics Show) 2017, NXPI unveiled some of its new products targeted at automotive and IoT.
Article continues below advertisement
LPC800 and LPC54000 series MCUs
NXP Semiconductors plans to introduce LPC800 and LPC54000 series MCUs that would deliver better performance while using less power. The MCUs would be competitively priced and be flexible with several IoT applications such as automotive aftermarket, smart home appliances, industrial control panels, data concentrators, and communication hubs.
The company plans to launch three 8-bit alternative MCUs in the LPC800 series and two 32-bit MCUs in the LPC54000 series. The first of the five MCUs is expected to launch in March 2017, with other four MCUs due for launch throughout 2017. Each MCU would offer developers additional memory and greater levels of integration.
NXP's software-defined radio solution for automotive
NXP has unveiled the world's first fully integrated software-defined radio solution SAF4000 featuring six ICs (integrated circuits). The ultra-compact RFCMOS[2. radio frequency complementary metal oxide semiconductor] device can receive all digital and analog global broadcast audio standards and switch between them.
The SAF4000 supports centralized infotainment head units, distributed radio/audio systems, and smart antenna solutions. The new solution would replace multi-chip high-performance infotainment platforms with a single chip reducing complexity and costs while delivering power and space savings.
ROADLink
At CES 2017, NXP Semiconductors (NXPI) demonstrated its RoadLINK platform it developed in collaboration with Delphi (DLPH) and Savari. RoadLINK brings high-performance sensors, powerful detection, sensor fusion system backed by cloud connectivity and an efficient system with industry leaders all in one package.
With RoadLINK, cars can communicate with other cars, road signs, traffic lights, and have access to real-time traffic updates and mapping tools. The information processed from this communication would reduce several traffic risks such as missing a red light or changing lanes and hitting another car.
RoadLINK is not a self-driving platform, it but can be built into self-driving platforms in the future. Meanwhile, it can be installed in ADAS or car brakes to make cars safer.
Next, we'll see how NXP plans to implement these technologies as autonomous car solutions.