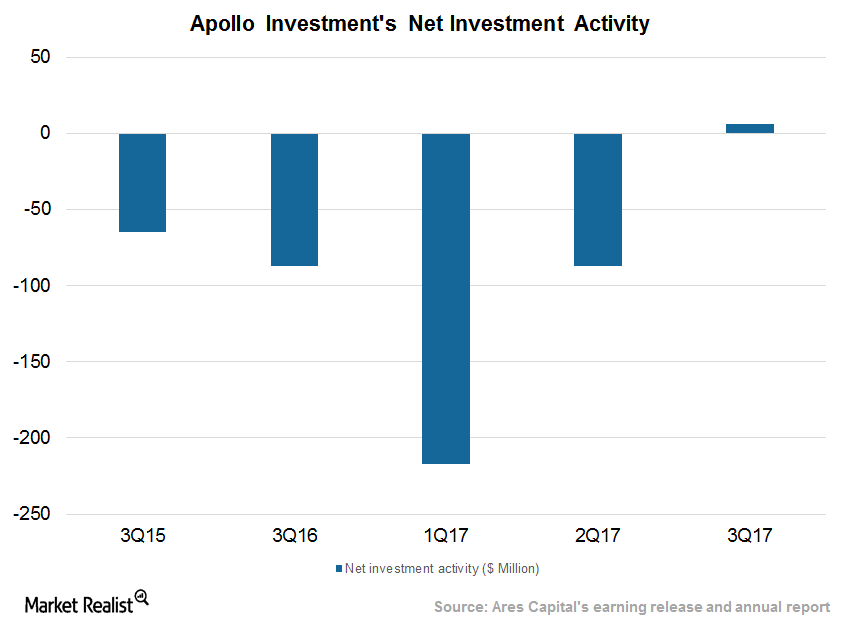 Apollo Investment Sees Net Investments Turn Positive in Fiscal 3Q17
Net investments
Apollo Investment (AINV) made a net investment of $6 million in fiscal 3Q17 compared to net investment exits over the past year. The company made investments of $201.3 million in fiscal 3Q17 compared to $127.6 million in the previous quarter.
Out of the total investments, Apollo Investment deployed $34 million in first liens, $154 million in second liens, and the remainder in unsecured debt and structured products. The trend reflects increased deployment toward less risky investments, mainly toward a first and second lien.
Article continues below advertisement
The yield on its first lien purchases stood at 10.0% compared to 10.3% in second liens. The yields on a first lien fell, and they rose on a second lien. The trends reflect higher competition in purchases of quality debt offerings. Apollo Investment's total portfolio stood at ~$2.5 billion in fiscal 3Q17 compared to ~$3.1 billion in fiscal 3Q16.
Below are some of the company's industry peers and their assets under management:
Apollo Global Management (APO): $163 billion
Ares Capital (ARCC): $8.8 billion
BlackRock Group (BLK): $5.4 trillion
Together, these companies form 5.4% of the PowerShares Global Listed Private Equity ETF (PSP).
A shifting portfolio
In fiscal 3Q17, Apollo Investments (AINV) sold $17.1 million in investments and repaid $178.2 million. Sequentially, the pace of exits declined, reflecting a potential of continuing net investments in upcoming quarters. The company is repositioning its portfolio in a bid to have a lower risk profile and lower volatility.
Apollo Investments is investing funds mainly into traditional corporate loans, carrying a floating rate directly sourced from the Apollo platform. AINV has added product offerings via mid-caps.