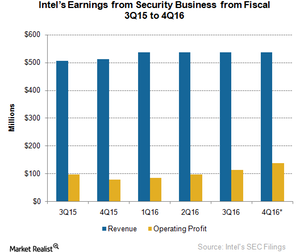 What Does Intel Security Group Have to Offer before Spin-Off?
By Puja Tayal

Updated
Intel Security Group
In the previous part of the series, we saw that Intel (INTC) is falling behind Xilinx (XLNX) in the programmable solutions market. Xilinx is now targeting the cloud market, which poses a threat to Intel. Like memory and programmable solutions are core to Intel's vision of the connected world, so is security. However, the company is spinning off the McAfee business it acquired in 2011.
McAfee delivers software security solutions, and Intel acquired it for $7.7 billion with the intention to bring security to the silicon level. However, it failed to do so, and McAfee continued to deliver strong earnings from its standalone business under the ISecG (Intel Security Group).
Article continues below advertisement
ISecG's earnings
As seen from the chart above, ISecG's revenue remained flat at $537 million in fiscal 1Q16, while its operating profit rose 7.6% in fiscal 1Q16, 14% in fiscal 2Q16, and 18.5% in fiscal 3Q16 on a sequential basis. The profit growth rate is increasing with every quarter while revenues remain flat. This trend is likely to continue in fiscal 4Q16 as well.
For fiscal 4Q16, ISecG revenue is likely to remain flat at $537 million, but operating profit is likely to grow by around 20% or above on a sequential basis.
What does ISecG's flat revenue signify?
The segment hasn't reported revenue growth over the past three quarters, whereas rival Symantec (SYMC) reported 11% sequential growth in revenue in the September 2016 quarter. This indicates that Intel's Security Group is earning revenue from its existing contracts, which it's serving, but is not expanding its business or looking for new contracts.
Intel to spin off its security division
The flat revenue was followed by the news of ISecG getting acquired by private equity firm TPG in September 2016. Under the deal, TPG would acquire a 51% stake in McAfee for ~$4.2 billion, while Intel would retain the remaining stake. Intel expects to realize a pre-tax gain of $500 million when the deal closes in fiscal 2Q17.
While this deal would remove ISecG from Intel's earnings, the company would still enjoy some portion of the segment's profits due to its 49% stake. Moreover, Intel may continue to buy security products from McAfee.
Next, we will see what Intel's balance sheet says about its future investment capacity.