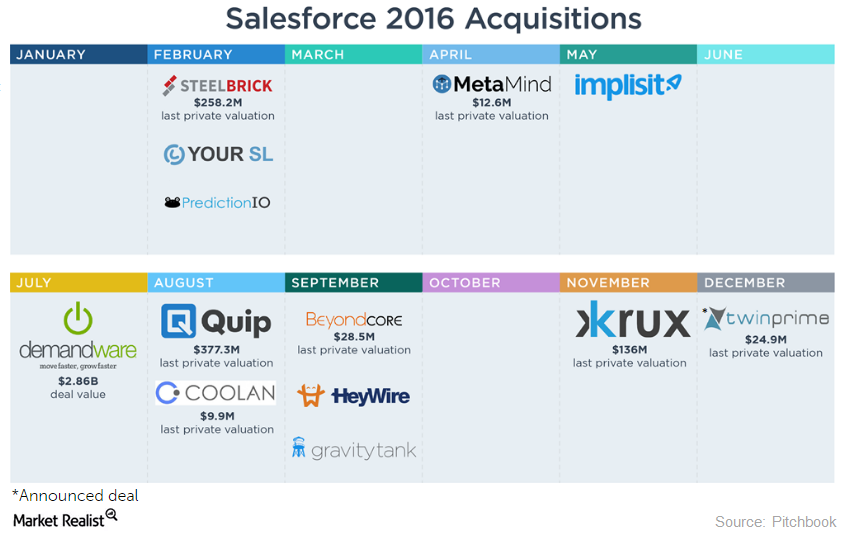 Why Salesforce Acquired Twin Prime
Machine learning and Twin Prime
Salesforce (CRM) continued its buyout spree in December 2016 with its acquisition of Twin Prime, a startup focused on ML (machine learning) that facilitates enhanced performance of mobile apps. The financial details of the deal were not disclosed.
The presentation below by Pitchbook provides a timeline of the Salesforce's total acquisitions in 2016. In total, Salesforce made 13 acquisitions in 2016. Apart from Salesforce, all the leading industry companies joined this acquisition frenzy in 2016. The deals between Microsoft (MSFT) and LinkedIn (LNKD), Symantec (SYMC) and Blue Coat Systems, Salesforce and Demandware, and Oracle (ORCL) and Netsuite were among the prominent acquisitions announced in 2016.
Calendar 2016 marked the second year on record in which technology deals accounted for the majority of such deals. Prior to 2016, 2000 witnessed the highest number of deals in the technology sector, with merger and acquisition activity worth $289 billion.
Article continues below advertisement
Support for Salesforce's cloud ambitions
Twin Prime provides an app performance and improvement platform that uses machine learning to analyze network data in real time. It also identifies and prioritizes performance lacuna in mobile apps, and then optimizes mobile performance. According to Pitchbook, Twin Prime has generated $11.6 million to date and is in the revenue generation stage.
As we discussed earlier in the series, machine learning is being touted as one of the key areas that would drive the $13 trillion in spending expected in the next computing cycle. Salesforce is likely to deploy Twin Prime's machine learning expertise to optimize its expanding cloud offerings for mobile acceleration.