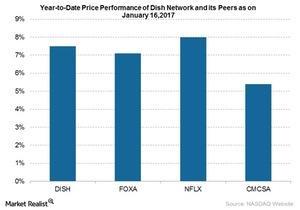 What Affects Dish Network's Stock Price?
Dish Network's stock price rises
On January 13, 2017, Dish Network's (DISH) stock closed at $62.27. The company's stock price has risen 19.6% YTD (year-to-date) and 9.3% in the past three months.
In contrast, media companies Netflix (NFLX) and 21st Century Fox (FOXA) have seen their stock prices rise 31.7% and 21.4%, respectively, in the past three months. Comcast's (CMCSA) stock price has risen 11.6%.
Article continues below advertisement
Factors driving Dish's stock price rise
Dish's pay-TV subscriber losses continued in fiscal 3Q16, with the company reporting a loss of 116,000 subscribers in the third quarter. However, Dish is increasingly concentrating on its OTT (over-the-top) service, Sling TV, and has revamped the service. The new version of Sling TV could boost the company's falling pay-TV subscriber numbers.
Another factor to consider is that even if Dish's pay-TV subscriber numbers continue to fall, the company has a valuable wireless spectrum that could make it an attractive candidate for a potential acquisition. There have also been rumors of Verizon Communications (VZ) being interested in Dish, but Verizon has recently denied these rumors.
In this series
In this series, we'll explore Dish Network's spectrum holdings and the broadcast spectrum auction. We'll start by looking at analysts' ratings for Dish.