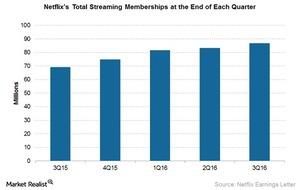 What's Netflix's Pricing Strategy in International Markets?
Netflix's pricing strategy
Netflix (NFLX) has kept its international prices close to its US prices. The company's streaming service in international markets costs between $6 and $19 per month.
The company was asked on its 3Q16 earnings call whether it intended to increase its prices in international markets in the future.
Netflix stated that it had no intention of increasing its prices, except for "an inflation adjustment" on an annual basis in Brazil in adherence with Brazilian law. The company further indicated that considering the increasing competition in international markets, it was more focused on offering existing Netflix subscribers good content and more value at that price point.
Netflix also stated that in some international territories, where countries change their VAT (value-added tax) or GST (goods and services tax), the company may pass the change on to consumers in the form of changed prices for its plans.
Article continues below advertisement
Early this year, Netflix expanded to around 130 countries. As the company expands rapidly to international markets, it expects to grow in these markets over a multiyear period. Netflix stated at the Goldman Sachs Communacopia conference this year that since it's still in the initial growth stage in these countries, there may be many people willing to pay that price.
However, Netflix ruled out introducing ad-supported offerings in these markets, as it believes the Netflix brand doesn't stand for advertising.
Netflix's plan to woo price-conscious viewers
In Asian markets, where Netflix launched early this year, Netflix is providing a high-value service at a ~$10 price point. It's also offering viewers plans at various price tiers. This approach means that price-conscious viewers in Asia can choose lower-priced plans, and Netflix won't lose viewers.
As we can see in the above graph, Netflix had total streaming memberships of 86.7 million in 3Q16.