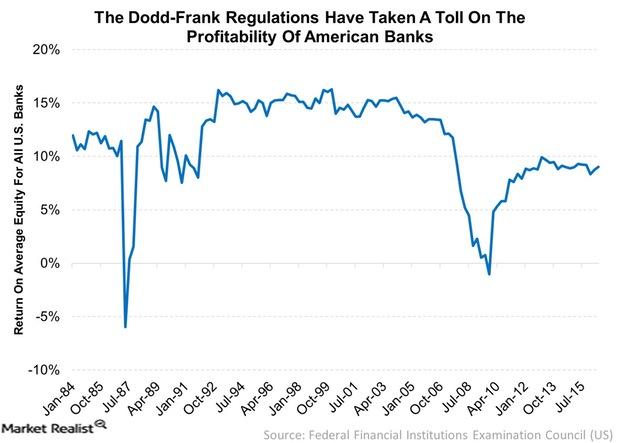 Why Financials Have Soared since Trump's Election
Direxion
Since Dodd-Frank regulation was passed in 2010, new capital requirements have had an impact on banks' investment returns, return on equity, and return on assets—which in turn has negatively affected those companies' valuations. In fact, Republicans contend that Dodd-Frank's Consumer Financial Protection Bureau has dictatorial powers that are overreaching. Its regulatory pressure of local and regional banks, the source of most home mortgages and small business loans, makes it harder for Americans to buy a home.
Article continues below advertisement
Financial stocks are enjoying a post-election rally as the Trump team has announced the dismantling of Dodd-Frank regulations on banks. Some presume that both regional banks, and financial powerhouses will benefit. However, no concrete policy has been outlined, so some say the rally is still based purely on speculation and may be overblown.
Think about this: Big banks have spent billions and transformed how they do business under Dodd-Frank over the past six years. What does it mean when Trump says he wants to dismantle it? The industry has no idea, but getting rid of the legislation may cause unintended consequences.
Market Realist
Why bank profitability has taken a hit
The graph above shows the returns on equity (or ROE) of all US banks (KRE) since 1984. As we can see, US bank profitability was high in the 1990s and early 2000s until the financial crisis. The Dodd-Frank Act's regulations on banks were laid out in order to avoid a repeat of the financial crisis.
However, the regulations meant that banks would have to be conservative with respect to lending by maintaining a minimum capital level. This requirement, in turn, has caused falls in banks' profitability, as the graph suggests. The average ROE was as high as ~15% in the 1990s, compared to ~9% post-2010.
Financials have soared since Trump's election
The graph above shows the performance of the Direxion Daily Financial Bull 3X ETF (FAS) and the Direxion Daily Financial Bear 3X ETF (FAZ) over the last month.
The dismantling of Dodd-Frank regulations for banks should improve profitability, which explains why their stocks have soared since Trump's win. The S&P 500 Financials Index has risen ~10% since the election. Meanwhile, FAS, a leveraged ETF, has soared ~30%.