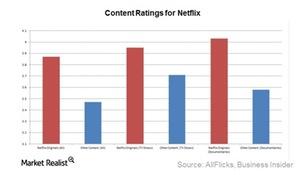 Netflix's View: Original Content versus Content Licensing?
Original programming
Netflix (NFLX) expects to spend ~$5 billion on content acquisition in 2016 and $6 billion on content in 2017. Currently, 10% of its content spending is on original content. The company would like to raise that amount to 50%.
Netflix believes original content will strengthen its brand and drive up viewing hours. Netflix is aiming for 600 hours of original programming in 2016 and intends to take this up to 1,000 hours of programming in 2017.
Article continues below advertisement
However, in its fiscal 3Q16 earnings call, Netflix stated that it has no fixed target when it comes to the proportion of original content and licensed content on Netflix. The company further explained that it expects licensed content to decrease gradually as a percentage of its business, but it expects its licensed content to grow on an absolute basis.
Netflix also stated that, on a financial basis, it would like to produce its own content. However, when another media company owns the intellectual property (or IP) to a popular show and Netflix would like to bring the show to its subscribers, the company has no option but to obtain the license to show the content.
According to an April 2016 Business Insider report, citing research from AllFlicks, Netflix's original content has an average rating of 3.9 out of 5, as shown in the graph above. According to the report, Netflix Originals perform 11.5% better than other content.
Netflix's content licensing agreements
In July 2016, Netflix entered into a content licensing agreement for Star Trek with CBS (CBS) Studios International. In 188 countries, excluding the United States and Canada, Netflix will exclusively stream Star Trek, starting with the original series that debuted in 1966 through to other spin-offs. Netflix has also entered into a content licensing agreement with 21st Century Fox (FOXA). According to the terms of the deal, Netflix will have exclusive streaming rights to its FX channel series, American Crime Story.