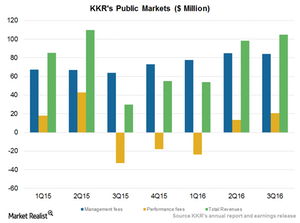 KKR Public Markets' Performance Rises on Improved Credit Pricing
Public markets
Public markets have recovered substantially as energy prices have recovered from their 1Q16 lows. Overall, KKR's (KKR) Public Markets segment's performance improved on performance fees and the rise in bond prices.
In 3Q16, the segment reported total revenues of $84 million in 3Q16, as compared to $64 million in 3Q15. Public markets' performance fees rose to $21 million, as compared to a loss of $33 million in 3Q15 and income of $13 million in 2Q16.
The segment's performance improved in 3Q16, primarily due to its multiple strategies, special situations platform, and domestic collateralized loan obligations.
KKR posted an operating profit last year. KKR's competitors had the following operating margins:
Together, these companies make up 4.3% of the PowerShares Global Listed Private Equity ETF (PSP).
Article continues below advertisement
Article continues below advertisement
Special Situations Fund
KKR's Public Markets segment ended 3Q16 with AUM (assets under management) of $55.9 billion—a YoY (year-over-year) rise of $300 million. The company raised capital of $2.9 billion, primarily in Special Situations Fund platform. It also saw a rise in its portfolio valuations of $960 million, which was partially offset by distributions of $3.6 billion.
Of KKR's total AUM, its fee-paying AUM stood at $49.1 billion—a rise of $500 million as compared to 2Q16.
At $1.5 billion, KKR deployed a record level of capital into an alternative credit vehicles, mainly within direct lending and Special Sits. Deployments into alternative credit vehicles have led to a rise in fee paying assets under management. The company has exited quite a few companies going public, reflecting changes in its overall portfolio.