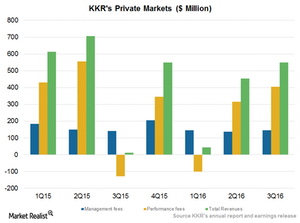 KKR Private Markets Segment Rises on Performance Fees in 3Q
Fund performance improves
KKR & Company's (KKR) Private Markets segment contributes almost 75% of the company's total revenues. The segment's performance largely affects the overall performance of the company.
In 3Q16, the segment reported revenues of $549 million in 3Q16, as compared to $12 million in 3Q15 and $453 million in 2Q16. Its private equity portfolio rose 5.8% YoY (year-over-year) in 3Q16 and 13% on a last-twelve-month basis (ending September 30, 2016).
Article continues below advertisement
The segment ended the quarter with AUM (assets under management) of $75.2 billion, as compared to $75.3 billion in 2Q16 and $66.8 billion in 3Q15. The division saw new capital raises of $1.9 billion and appreciation of $2.5 billion, offset by distributions of $4.6 billion. Of the segment's total AUM, fee-paying AUM stood at ~$44.0 billion—a fall of $2 billion from 2Q16.
KKR's revenue fell 15% in the last fiscal year. KKR's competitors' revenue growth are as follows:
BlackRock (BLK) rose 12%.
Blackstone Group (BX) rose 12%.
Apollo Global Management (APO) fell 59.6%.
Together, these companies make up 4.3% of the PowerShares Global Listed Private Equity ETF (PSP).
Public portfolios
The Private Markets segment's total revenues rose to $549 million in 3Q16, s compared to $12 billion in 3Q15. The rise was mainly due to improved performance income of $404 million, as compared to performance loss of $129 million.
The company saw a strong appreciation in its public and private portfolios and deployed $3.7 billion—mainly in private markets. The company made three investments out of NAXI and two Indonesian investments out of Asia II. The private equity component of the balance sheet makes up almost 40% of the company's total balance sheet.