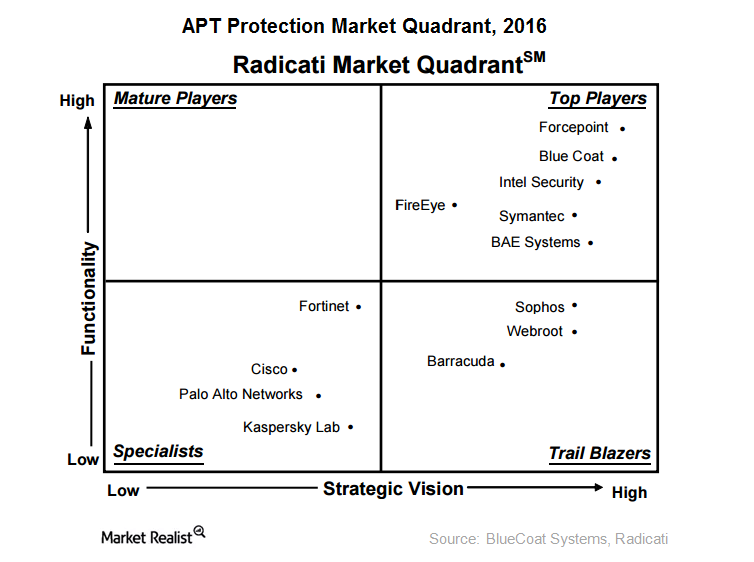 Why FireEye's Leadership in APT Could Benefit Its Investors
FireEye is a leader in the APT space
Earlier in this series, we discussed FireEye's (FEYE) new offerings in the cloud space. Apart from Cloud MVX and MVX Smart Grid, its other offerings include NX (Network Security), AX (Malware Analysis), HX (Endpoint Security), EX (Email Security), FX (File Content Security), and Endpoint Forensics. All these offerings are integrated to a threat intelligence and analytics platform.
As the chart below shows, FireEye, Forcepoint, Blue Coat (now owned by Symantec), Intel Security (INTC), Symantec (SYMC), and BAE Systems were featured among the top players in the APT (advanced persistent threat) space, according to research by the Radicati Group.

Article continues below advertisement
APT global revenues could more than double
According to the Radicati Group's research, the global revenue for APT protection offerings could grow from $2.6 billion in 2016 to ~$7.3 billion by 2020. An increase in cyberattacks, the proliferation of IoT (Internet of Things), and the increasing requirement to deploy advanced security solutions should drive growth in the APT space. If we consider IBM's (IBM) estimates, there could be more than 30 billion connected devices by 2020, which would lead to an exponential surge in the volume of data generated.
This exponential increase in connected devices would require protection. Cybersecurity players that can deliver high-security features and offerings at a competitive TCO (total cost of ownership) would benefit from sales of endpoint protection offerings.
According to Forrester Research, "Symantec offers the most complete endpoint security suite on the market." Symantec was named a leader in Endpoint Security Suites in 4Q16. IBM (IBM), Intel Security (INTC), and Palo Alto Networks (PANW) are some other prominent security players recognized by Forrester Research.
Recently, Symantec (SYMC) launched SEP (Symantec Endpoint Protection) 14. The next-generation endpoint security offering combines conventional and next-generation functionalities such as machine learning and zero-day exploit prevention. It also launched SEP Cloud, a cloud version of the company's endpoint protection.