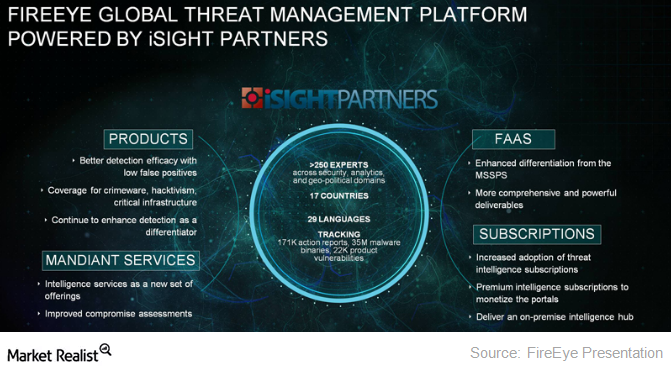 Why FireEye Partnered with Microsoft
Microsoft partners with FireEye for its iSIGHT Intelligence offering
So far in this series, we have discussed FireEye's (FEYE) aggressive efforts to record growth, ranging from new offerings to cost-cutting initiatives. Following in the footsteps of tech giants IBM (IBM) and Microsoft (MSFT), which partnered to expand and strengthen their offerings, FireEye is also entering an industry partnership. Last week, Microsoft announced a partnership with FireEye's iSIGHT Intelligence.
There were some rumors that with this partnership, FireEye would gain access to Microsoft Windows 10 telemetry data.
Article continues below advertisement
Refuting this, Australian (EWA) news site ARN noted that a Microsoft spokesperson stated, "This additional layer of intelligence includes indicators and reports of past attacks collected and edited by FireEye and enhances detection capabilities of Windows Defender Advanced Threat Protection (WDATP). The deal does not include the sharing of Microsoft telemetry."
The symbiotic Microsoft–FireEye deal
Industry insiders believe that the Microsoft–FireEye deal is beneficial to both companies. ARN cited James Turner, an IBRS cybersecurity advisor, who noted that Microsoft is "seen to be playing with a big brand name in the security space and FireEye potentially get access to a much broader distribution of endpoints than it would otherwise have."
During the 2016 Ignite conference, held in late September, Microsoft shared its vision of its future, which primarily involved AI, the cloud, and security. Microsoft also announced several security features such as Windows Defender Application Guard, which is unique to Windows 10.
FireEye's iSIGHT Intelligence is based on its acquisition of iSight Partners, which was a threat intelligence services provider. iSIGHT Intelligence employs machine learning and MVX engine analytics to provide mechanized threat detection and blocking across all categories of threats.