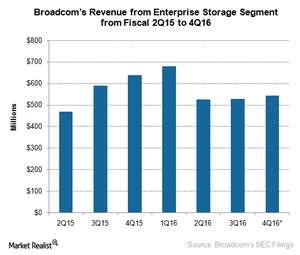 What Are Broadcom's Plans for Its Enterprise Storage Business?
Broadcom's Enterprise Storage segment
In the previous part of the series, we learned that Broadcom's (AVGO) Wireless segment is its key growth driver during peak seasons and a growth deterrent during off-seasons. Hence, the company is looking to reduce its exposure to the segment by making acquisitions in other markets. Its latest acquisition of Brocade Communications Systems (BRCD) should double the size of its Enterprise Storage segment, which currently accounts for 13% of its revenue.
The Enterprise Storage segment isn't Broadcom's core business. It was created through the acquisitions of LSI and PLX Technology. The segment offers storage products such as HDDs (hard disk drive), server storage, and PCIe (peripheral component interconnect express) switches and bridges.
Article continues below advertisement
Article continues below advertisement
Enterprise Storage's earnings potential
Broadcom's Enterprise Storage segment's revenue fell 22.5% sequentially in fiscal 2Q16 as demand for HDDs fell significantly as SSDs (solid-state drive) began replacing HDDs in laptops. Overall PC (personal computer) demand is slowing. Within the PC market, the demand for desktop computers is falling, and the demand for notebooks is rising.
The first and fourth fiscal quarters are seasonally strong quarters for AVGO's Enterprise Storage segment, and the segment is likely to report growth in fiscal 4Q16.
In fiscal 4Q16, Broadcom expects the segment's revenue to rise in the low single digits percentage-wise on a sequential basis, to more than $540 million.
HDD supplier Seagate's (STX) HDD revenue rose 6% sequentially in 3Q16. PC chip supplier Intel (INTC) also reported strong growth in its PC revenue during the quarter.
Broadcom's future plans for the Enterprise Storage segment
Broadcom is looking to increase its exposure to the data center market as it looks to tap into the IoT (Internet of Things) revolution. In the short term, it has no plans to boost the Enterprise Storage segment's revenue growth with the acquisition of Brocade. The acquisition is primarily meant to generate cash flow, helping Broadcom pay off its debt faster.
In the long term, AVGO may look for an acquisition target that can give it a strong position in the enterprise storage market. Analysts believe that Xilinx (XLNX) is a strong acquisition target for Broadcom, as it's at the center of artificial intelligence and the 5G (fifth-generation) revolution, and its products would complement Broadcom's products.
Next, we'll look at Broadcom's Industrial business.